Though many homeowners put time into how the interior of their home looks, it's sometimes easy to forget about how a house looks from the outside. A shabby roof, dated siding, or lack of character can all hurt the overall appearance of the house. If the exterior of your home has lost its luster, check out some of the ways you can have your home's outside feel as welcoming as it does inside!
Keeping up appearances is important – when it comes to your home, at least. According to JBDB's designer Emily Thull, the overall appearance of your home makes a statement, and if a home has faded shutters, peeling paint, and overgrown landscaping, that statement isn't very cheerful. "When neglected, it can really bring the neighborhood down!"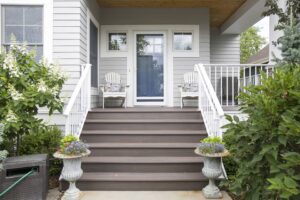 For homeowners wanting to make simple home exterior remodeling changes on their own, Emily offers a few easy tips to give your home a facelift. "Color is an easy way to add to your curb appeal," she says. "Some flowers go a long way! But make sure that your landscaping is maintained – an unruly flower bed can quickly steer away from the appeal you're looking for."
Painting a front door or shutters in a different color is another way to inject some fun visual interest to a home. Emily encourages homeowners take a step further too, and think outside the box.
"I enjoy adding a 'wow' factor to a home by taking pretty typical things and treating them unconventionally," Emily says. "This can be done by selecting light fixtures that are unexpected, treating your house numbers in a special way, or by the choices made in your outdoor furniture and accessories."
She also suggests treating your outdoor living spaces as an extension of your home. "The walls inside your home aren't the only ones that deserve art!" she says. Consider sculptural pieces that can withstand the outdoor elements to add texture, interest, and a cozy feel to patios, porches and decks.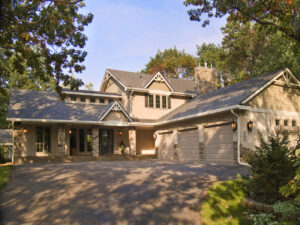 "One of the biggest struggles homeowners have with exterior updates is how to coordinate all the different finishes and colors so it looks cohesive," Emily says. Talking with a home renovation team is a great way to figure out where to start and create a plan for your home.
A design-build company can help homeowners figure out roofing, decking, siding and landscaping options, as well as the smaller details like shutters, front doors and garage doors, and light fixtures – and bring them all together into one unified look.
For more inspiration on exterior renovations, check out JBDB's gallery of exterior home remodeling projects, and contact JBDB today to get started!