It seems like you can't ever have enough storage, but sometimes creating functional storage space can be a challenge for homeowners. In the final part of this blog series, we'll be discussing smart storage solutions for the mudroom and laundry room.
In our storage series so far, we've covered tips on how to create extra space in both the kitchen and in your bathroom. It's a little easier to picture how storage can look and function in those rooms – but how about the more utilitarian spaces like the mudroom and laundry room?
These are two rooms of the house that are notorious for collecting the household's messes. To help contain clutter in these spaces, JBDB home interior design expert Emily Thull has recommendations on how to minimize and conceal the clutter.
"I try to hide the storage as much as possible, especially in mudrooms and laundry rooms that are highly visible to the rest of the home," Emily says. "With that being said, you also want to keep it easy so things don't just pile up on a bench or countertop."
For a stylish mudroom solution, Emily suggests installing a cubby system. "Open cubbies are great for ease of use but having matching, decorative bins in them keeps the sight lines clean and clutter free." This is an especially great option for families with children – each family member can have a dedicated space for their sports gear, backpacks, shoes and coats.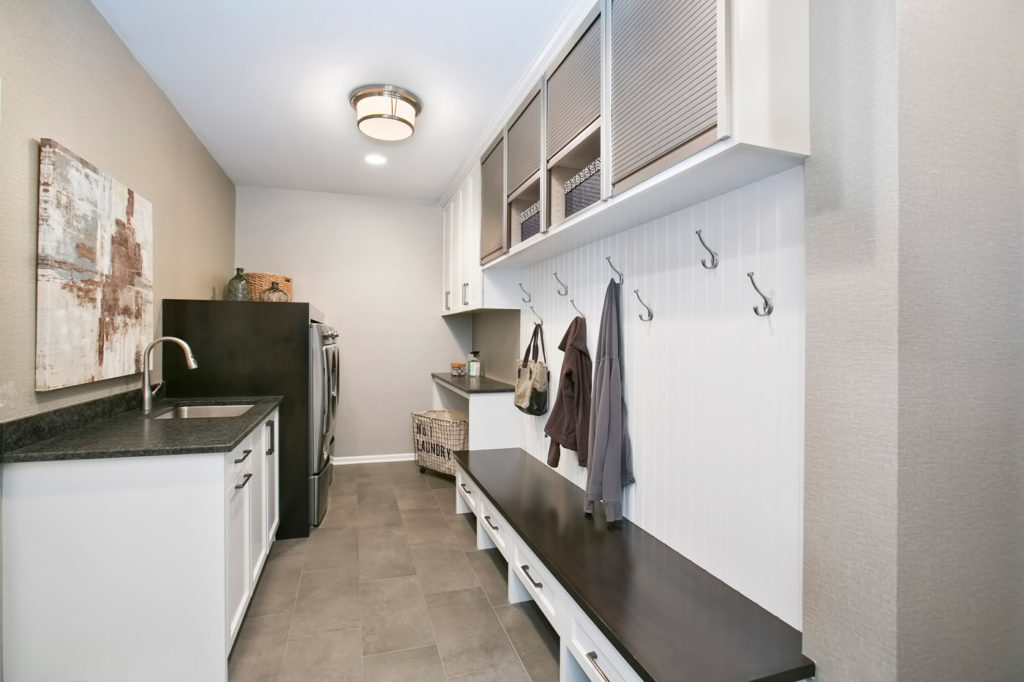 In the laundry room, using divided hampers can help keep laundry from piling up on the floor  – and save homeowners the hassle of separating their laundry later. Collapsible drying racks can be folded up and stored in a closet when not in use. And if space allows, installing cabinets in the laundry room will keep the essentials within reach but still hidden from view to minimize clutter.
One of the biggest challenges of increase storage space in any room is, of course, getting extra space itself. "When we are remodeling a space, say a mudroom or kitchen, it's always great when we can increase the storage by increasing the square footages of these areas," Emily says. "Sometimes, we don't get this luxury – so the challenge is creating more storage space with still the same footprint! That's where a designer comes into play, as we are able to think creatively and know of a multitude of products out there to help with storage and organization. We can also come up with custom designs and ideas that are suited specifically for your particular space."
If a home remodeling project is on the horizon, be sure to talk to the Minneapolis remodelers at JBDB to determine the best ways to improve your storage capacity in your home. The JBDB home design team can work with the homeowner to come up with a functional yet beautiful space that works best for the family's lifestyle. To get started on your next house remodeling project,

contact

JBDB today!