Taking on an outdoor project like an exterior home remodel is a way to bring your unique style to your home while significantly increasing curb appeal. This starts with choosing an exterior home color.
With endless color options, how can you ensure you select an on-trend, yet timeless option? To choose the right exterior home color for you, look to these 2021 design trends as a starting point that you can make your own. 
Dark Colors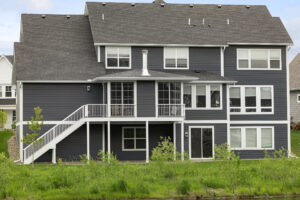 Dark gray is one of the top trending exterior paint colors, but it's also a classic choice. Many homeowners choose this charcoal or almost black hue for their exterior home remodel for a sleek look. If you're looking to make a bold statement with your next home improvement project, use black as an accent color on trim, shaker siding or brick.
Beige
You can also enhance your curb appeal with a warm beige exterior home color. It's a subtle choice that's rising in the ranks as a 2021 design trend. View "Accessible Beige" to see an example of  this trending exterior paint color that's set apart from beiges of the past. 
If you have a love for natural touches, consider complementing beige paint with stained front pillars or wood accents to bring earthy shades into your outdoor project. 
Blues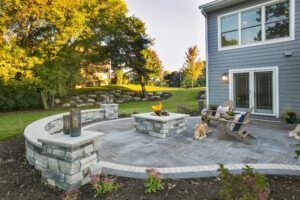 For ultimate flexibility, look to an exterior home color in the blue family. Colors like navy blue range from neutral to royal blue and fit a wide range of exterior home styles and remodels. 
Would you like to convey a sense of tranquility with a little personality? Slate blue is a unique neutral exterior paint color that's trending. Before committing to this color for your home improvement project, try testing multiple swatches to find the right variety for your taste.

Warm White
White isn't a surprising 2021 design trend, but many homeowners are now gravitating toward warm, creamy whites that pair well with wood accents. We tend to recommend warmer whites for exterior home remodels versus a true white for a softer look and more inviting curb appeal. 
For a smaller outdoor project, consider adding extra trim around your windows in white. A soft white complements light and dark-colored homes and pairs well with white or black windows to offer you additional personalization.
Ready to Get Started?
James Barton Design-Build understands how to blend trending exterior paint colors with your personal style for a truly unique exterior home remodel. Request a consultation today to start designing your dream home with us.