James Barton Design-Build: A Premier Minnesota Home Remodeling and Renovation Company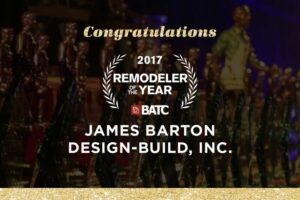 When we opened our doors in 1997, it was with one goal: To work closely with each of our clients in order to provide an outstanding home renovation experience with as little disruption as possible. In each home remodeling project, we achieve this by:
Stressing open and honest communication with the homeowners we serve
Utilizing carefully developed home design planning, project management, and home construction processes and procedures to assure that we meet the expectations of our clients
Working together with suppliers and sub-contractors that share our high standards
Today, James Barton Design-Build is known and respected as a top award-winning home remodeling company in the Twin Cities. With over two decades in business, we continue to uphold the high values and standards that have served as the foundation for thousands of satisfied client relationships. Contact us today to learn more about our home remodeling team and let's work together to bring to life your dreams for your home.