Feeling the itch to update your home's interior? You're not alone! Planning a home renovation has plenty of benefits, from improving your home's functionality and aesthetics to increasing your home's resale value. 
And though you might have a Pinterest board full of inspiration, one of the harder aspects of figuring out a renovation is often its budget. "Many people think that what they see on home design shows on TV is real," said James Madsen, founder and president of JBDB. "But it's definitely not an accurate gauge for homeowners to go by. Much of the products and labor are donated, so the budgets shown on TV are not an accurate reflection of the actual cost of the project."
Here are some tips and tools to help ensure you're setting a realistic budget for your home remodeling project!
Consider the Following Questions:
How much am I willing to invest in my home?
According to James, this is one of the most essential factors a homeowner should consider before starting a project: "From a numbers standpoint, some projects might not make sense based on the overall value of the home and what you want to put into it," said James. "But if you view your renovation project as more of a lifestyle choice versus an investment choice, then the cost may not be as big of a factor."
How long am I planning on staying in my home?
"If you love your neighborhood and if you love the lot your house is on, it might be worth the investment to stay in your house long-term," said James. "That can make an impact on the scale of your renovation and the amount of time you feel comfortable with to help you break even."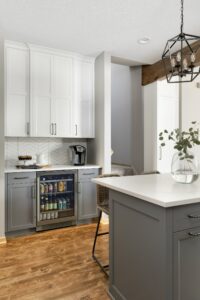 Generally speaking, James recommends homeowners consider the following guidelines for how long it takes for a typical renovation project to break even:
Kitchen or

bathroom renovation

: 3-5 years

Full bathroom or

kitchen remodel

(i.e. gutting the space and completely redoing it),

finishing a basement,

or

adding a porch

: 5 years

Full-floor renovation

,

large addition

,

whole-house renovation

: 7-10 year commitment
See renovation price ranges in your area with this resource from Remodeling Magazine.
Understand What Will Impact Your Budget the Most – and What Won't
Re-Routing Mechanicals
James mentioned that there are some common misconceptions about where homeowners think they can save money. "Many home reality shows make it seem like re-routing plumbing, electrical, and HVAC will be a huge added expense," he said. "But if a space is gutted, moving a vent or relocating a sink is not going to create a significant cost difference to the overall project."
Finishes
The same applies to the level of your finishes. James said, unless you are selecting extremely high-grade finishes across the board, it's not going to change the overall cost of your remodel significantly. "On an average project, your finishing selections will only sway the cost about 3-5%."
Labor
One main reason that the costs don't budge significantly is because the cost of labor will largely remain the same; whether you're installing marble or less costly granite, the amount of time and labor it takes to install won't change.
Scope of the Project
So where can you save money on a project? James said, "One of the biggest things you can do to see a difference in the overall budget is in the scope of your project. Are you adding on to your home? That quickly escalates the cost with siding, roofing, and foundation materials."
If you're initially planning on expanding your home, first take a look at your existing square footage and see if there is unused space you can reallocate instead. "Maybe you have a dining room that's barely used, and we can extend a kitchen into that area," James said.
Fixed Price vs. Allowance-Based Pricing
When determining your budget and who will do your remodeling project, you will want to find out if the remodeling company is doing fixed price or allowance-based pricing. 
With allowance-based pricing, the details aren't figured out by the time you sign the contract. Homeowners will get an "allowance" to make design decisions, but there is a lot more room for costs to change when the budget isn't solidified in advance. 
James said, "You wouldn't buy a car without knowing its make and model first, right? A home is one of the biggest investments that you make–why would you do that with your house?"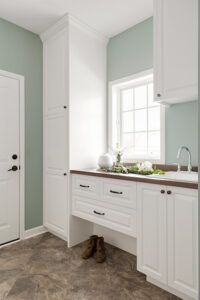 The JBDB team bids projects by fixed pricing, which means homeowners go through the design process, pick out their finishes, and make all the decisions. Afterward, they sign a contract on that final, fixed price. "We take the time during the design phase to make sure you know exactly what you want,"said James. There's also no need for a contingency plan with fixed pricing, since all of the prices and costs are already known.
Make Sure It's the Right Fit
When interviewing a renovation company, it's important to talk about price and budget. But beyond the budget, James encourages homeowners to also take into account the contractor themselves: "Are they the right fit? Do they have the same vision and the same expectations that you do? You want a relationship that works well both ways." 
Plan Your Home Remodeling Project with JBDB
A remodeling project is unique to each homeowner. Once you have gotten a good idea of the scope of your project and the budget, the design-build team at JBDB can help you go through the remodeling process and help answer any questions you may have, and give you a clear picture of what you're getting for your investment. 
Contact

the JBDB team today!