The homeowners desired a high-end bathroom that was functional and easy to maintain on a day-to-day basis. The James Barton Design-Build team transformed the look and feel of this ensuite by incorporating a blend of modern stylings with cool neutral tones. No detail was taken for granted throughout this bathroom from the matching white quartz used in the vanity countertops and open-concept shower to the eye-catching white freestanding tub and porcelain flooring.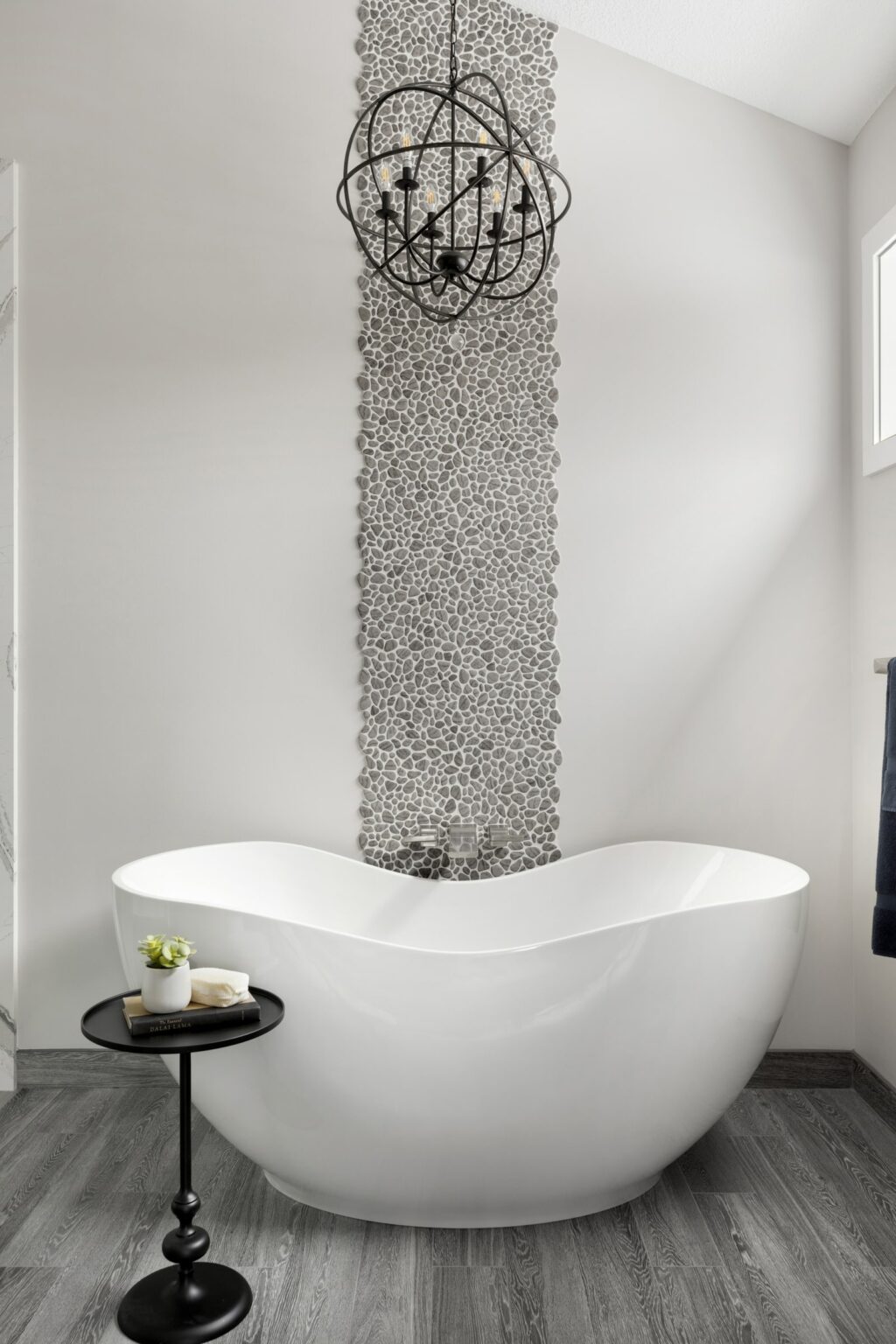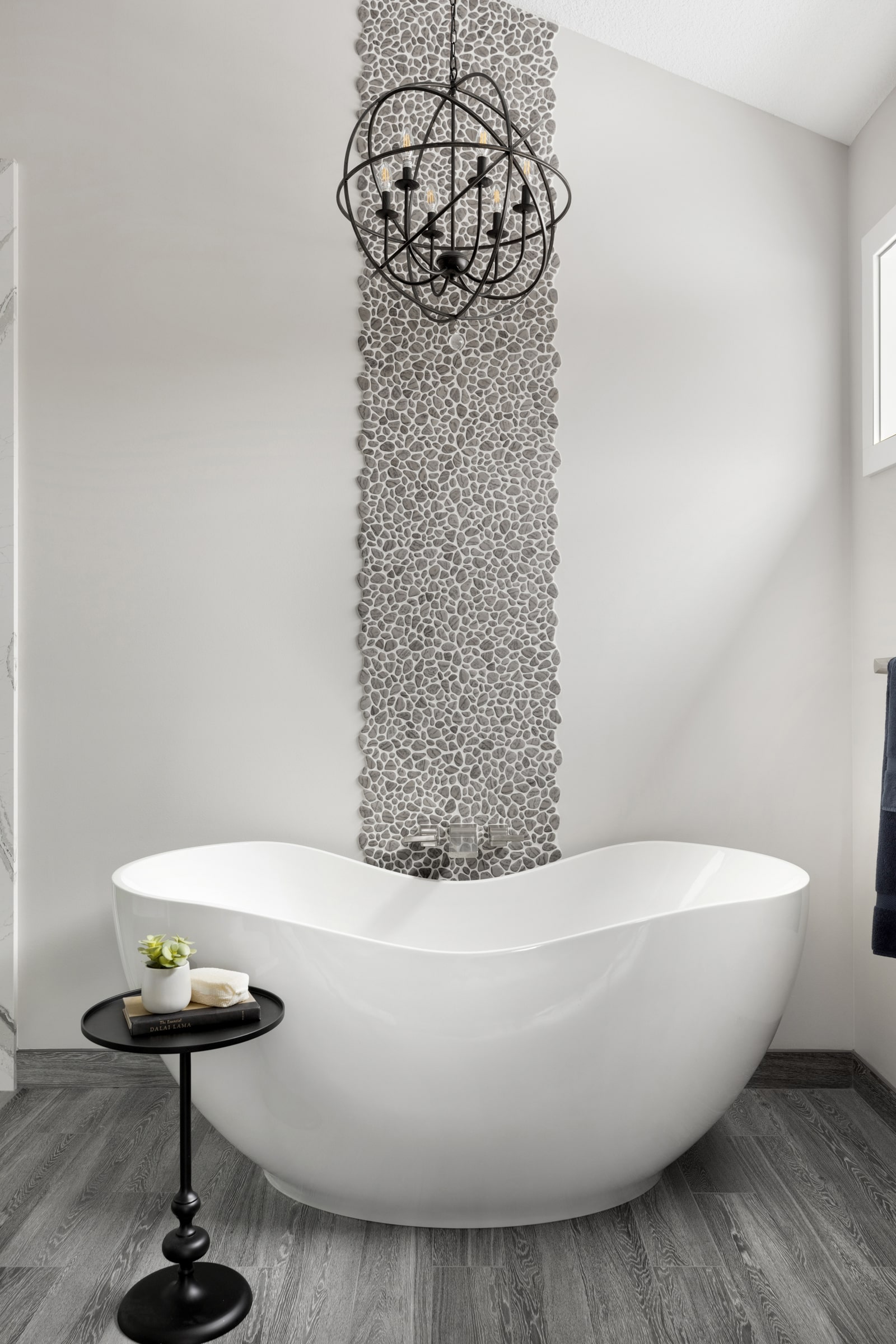 Bathtub
The large freestanding Kohler white tub was selected for its fluid lines that blend perfectly with the modern feel of the room.
Recycled glass was used to create the strip of river stone cascading down from the room's vaulted ceiling.
A dark metal chandelier hangs above the tub to contrast with the neutral-tone of the rest of the bathroom.
The bathroom's existing large window was replaced with a transom window to allow for warm natural light to enter above the tub while increasing privacy.
The bathtub's wall-mounted faucet serves as a unique center-piece that adds balance to the room.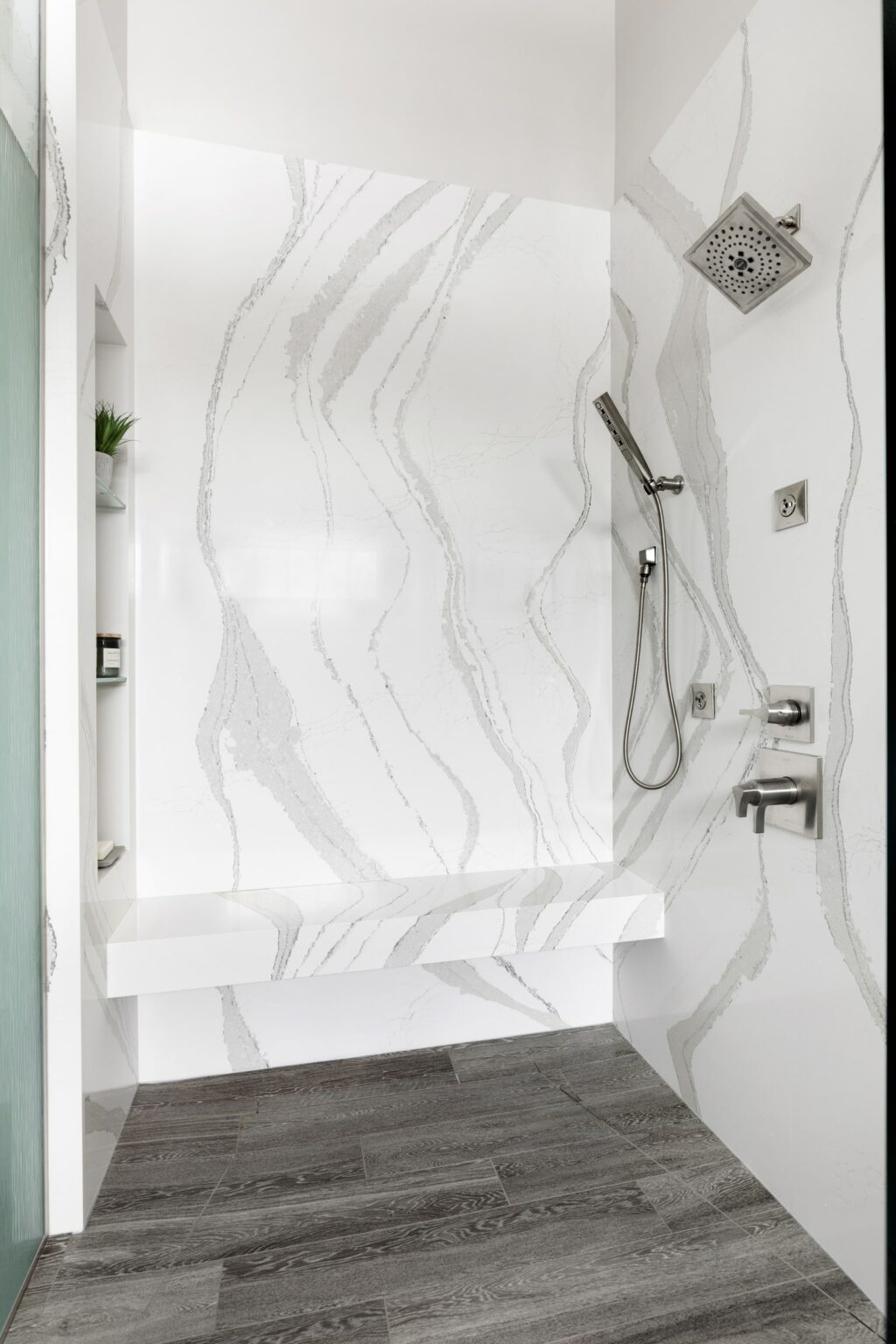 Shower
White Cambria veined-quartz panels were used as the shower's surround for their bold design and ease of cleaning.
Porcelain flooring (made to look like wood planks) was used throughout the bathroom and flows seamlessly into the open-concept shower.
A true spa-like experience was created with multiple spray options including a shower head, handheld spray, and three body sprays.
The shower's floor drain is hidden beneath the floating bench.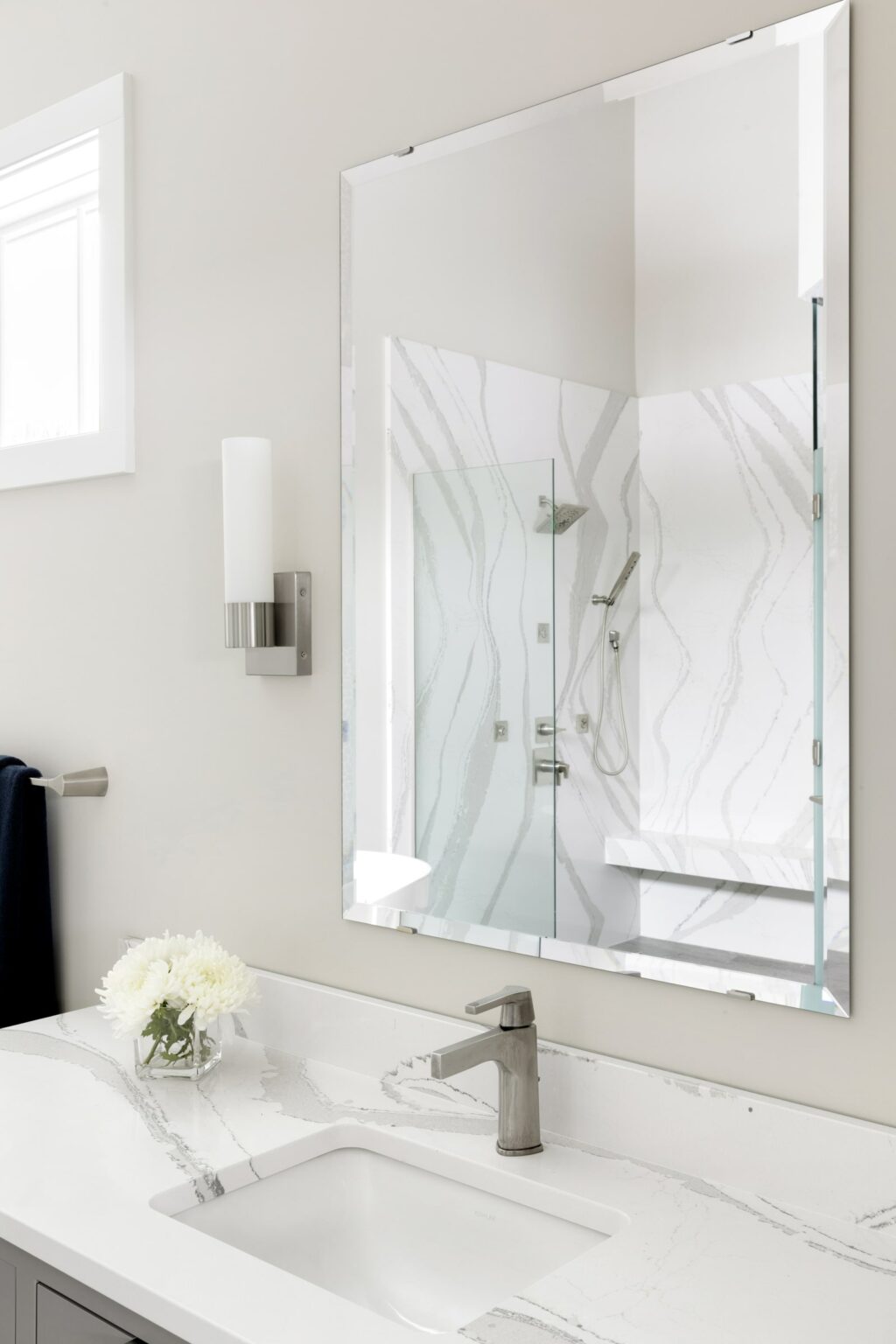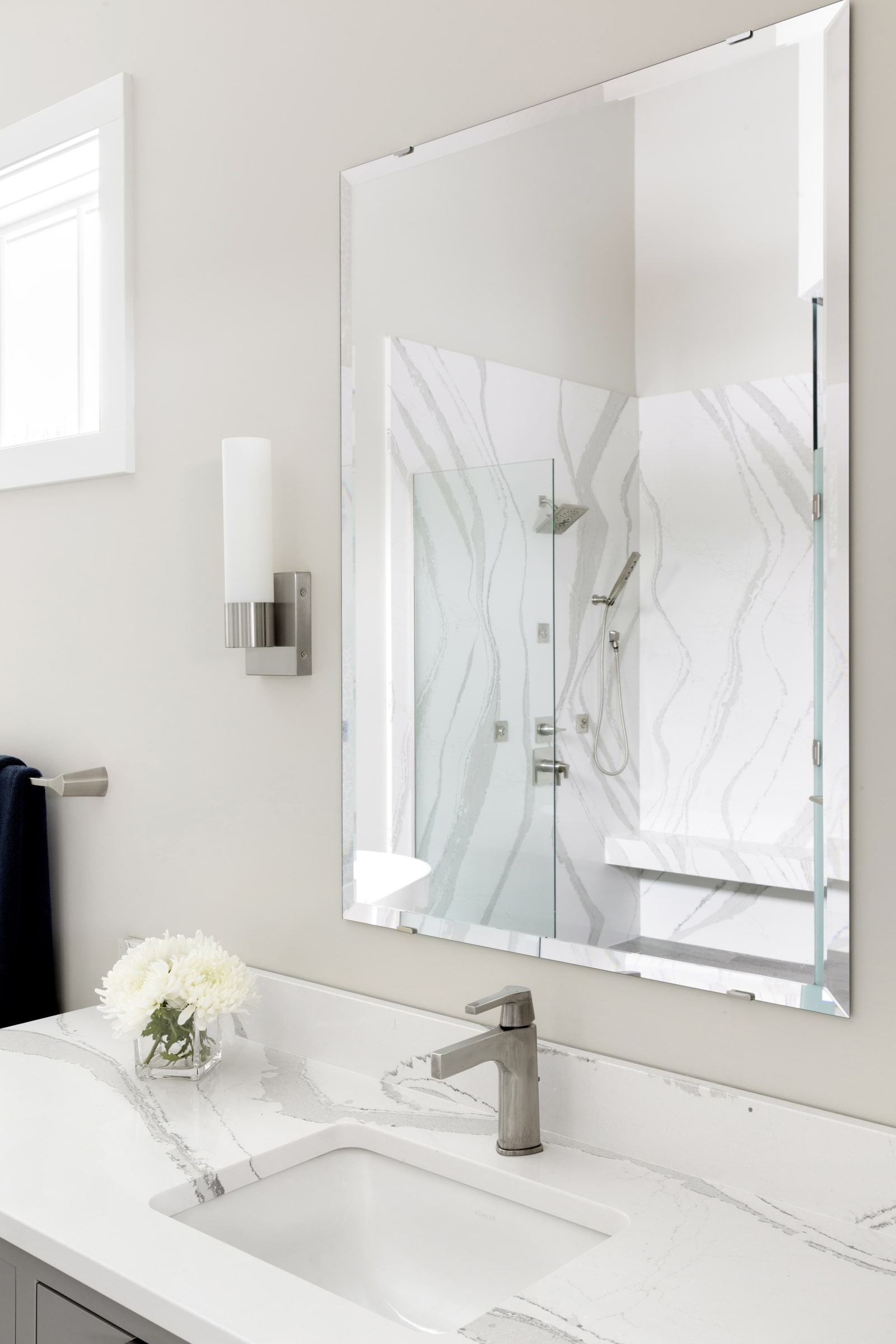 Vanities
White quartz countertops sit atop sleek grey cabinets to compliment the bathroom's modern feel.
Custom storage options were included based on the needs of the homeowners such as drawers with power outlets and cabinets specifically for makeup.
Sconces were installed next to each mirror to provide functional lighting at face level.
The inset slab front vanities with tab-pull hardware offer a modern aesthetic that is easy to clean and maintain.