'Tis the season to look ahead to the new year and all the trends it's slated to bring. Read what this Twin Cities bathroom remodeling team says about five bathroom ideas and their recommendations for incorporating them into your home.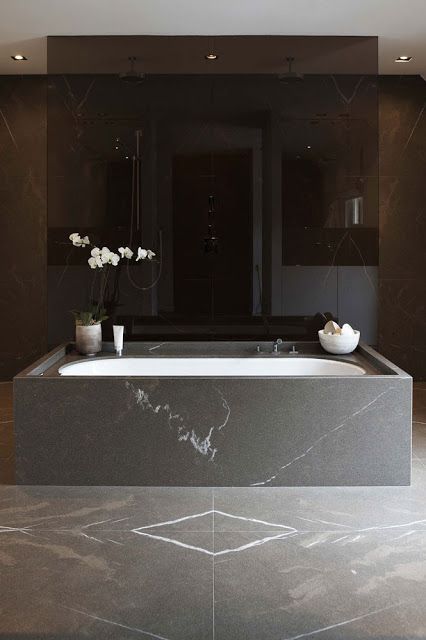 Source: DigsDigs

Trend #1: Smoked Glass
Love it
Smoked glass is a naturally-tinted foggy alternative to traditionally transparent glass. Its opaqueness makes it a stylish way to separate and add privacy to areas of your bathroom, adding a touch of luxury while still being easy to clean and maintain.
"You can also use smoked glass to enclose your shower or standalone bathtub, giving it that spa-like sensibility, perfect for unwinding," said Sydney Monson, one of JBDB's designers. "And because smoked glass comes in so many color options, we can find the one best suited to your design palette."

Trend #2: Backlit Mirrors
Love it
If you're tired of overhead lighting and battling shadows when trying to do your makeup, backlit mirrors are the way to go. Lights are installed behind the mirror to add a softer, warmer glow to the room. And the direct, even light distribution is ideal for makeup application.
"Sometimes our clients worry that backlist mirrors won't offer enough light, but they're deceptively effective," noted Kayleigh Queoff, one of JBDB's designers. "Additionally, we can always create a layered, customized lighting plan to make sure your lighting needs are covered."

Trend #3: Reeded Cabinet Fronts
Love it
While reeded cabinets have long been in kitchens, these natural-looking textures are popping up in more bathroom designs. Giving the appearance of side-by-side dowels placed snugly together, reeded cabinets offer visual interest with a nod to nature.
"I've been a fan of reeded cabinets for a long time, and I'm glad to see them featured more," noted Queoff. "Adding character to your bathroom cabinets gives them a unique look. And this timeless Shaker-inspired design integrates well with all kinds of styles."

Trend #4: Glossy Finishes
Love it – in moderation
After years of matte options ruling the design world, glossy finishes are becoming more sought-after. Pull in polished finishes in your tiles, shower pans, and faucets—the shine from a glossy finish adds brightness and playfulness to the bathroom.
This element works best when it's balanced. The JBDB team can help talk you through glossy and matte options so your finishes complement each other instead of competing for visual attention in the space.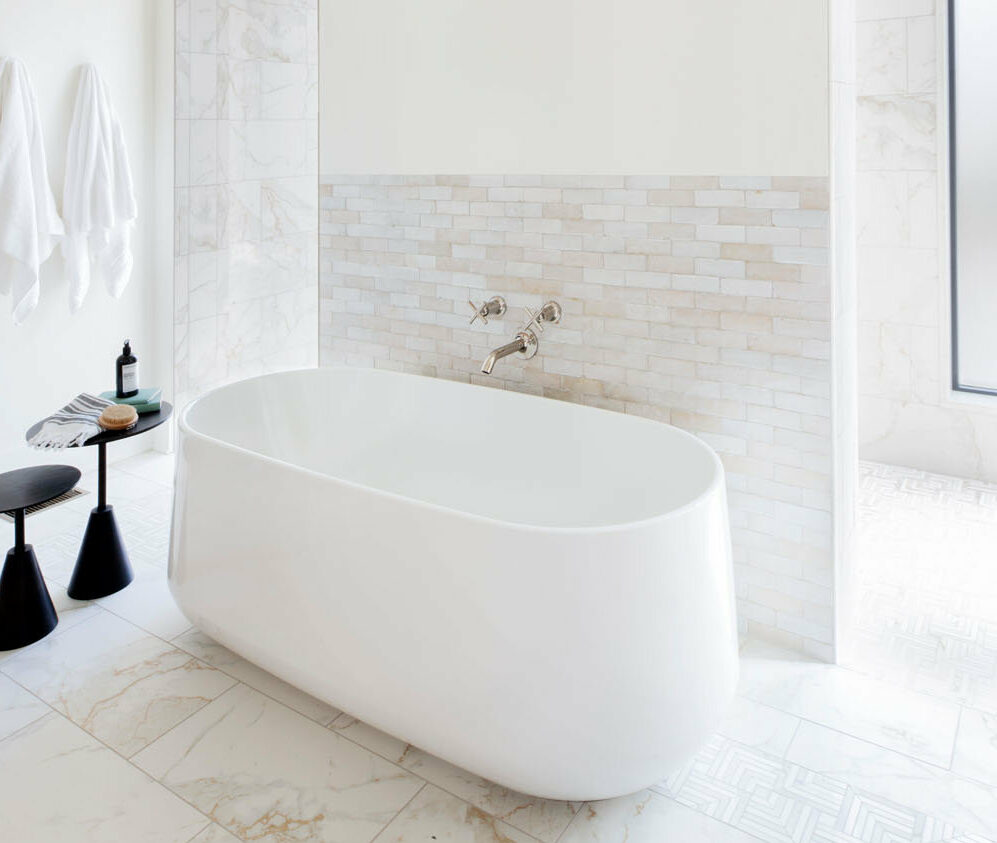 Source: Scout & Nimble

Trend #5: Textured Tiles
Love it – in moderation
Zellige or textured tiles are looking increasingly popular heading into 2023. Zellige tiles pull inspiration from Moroccan terracotta design with a handmade look that makes your bathroom your own.
"The JBDB team can help you decide how to arrange your textured tiles," said Monson. "Horizontally, vertically, herringboned, stacked, or even staggered—there are so many options. We'll present a few varieties, and you can choose the one that speaks to you!"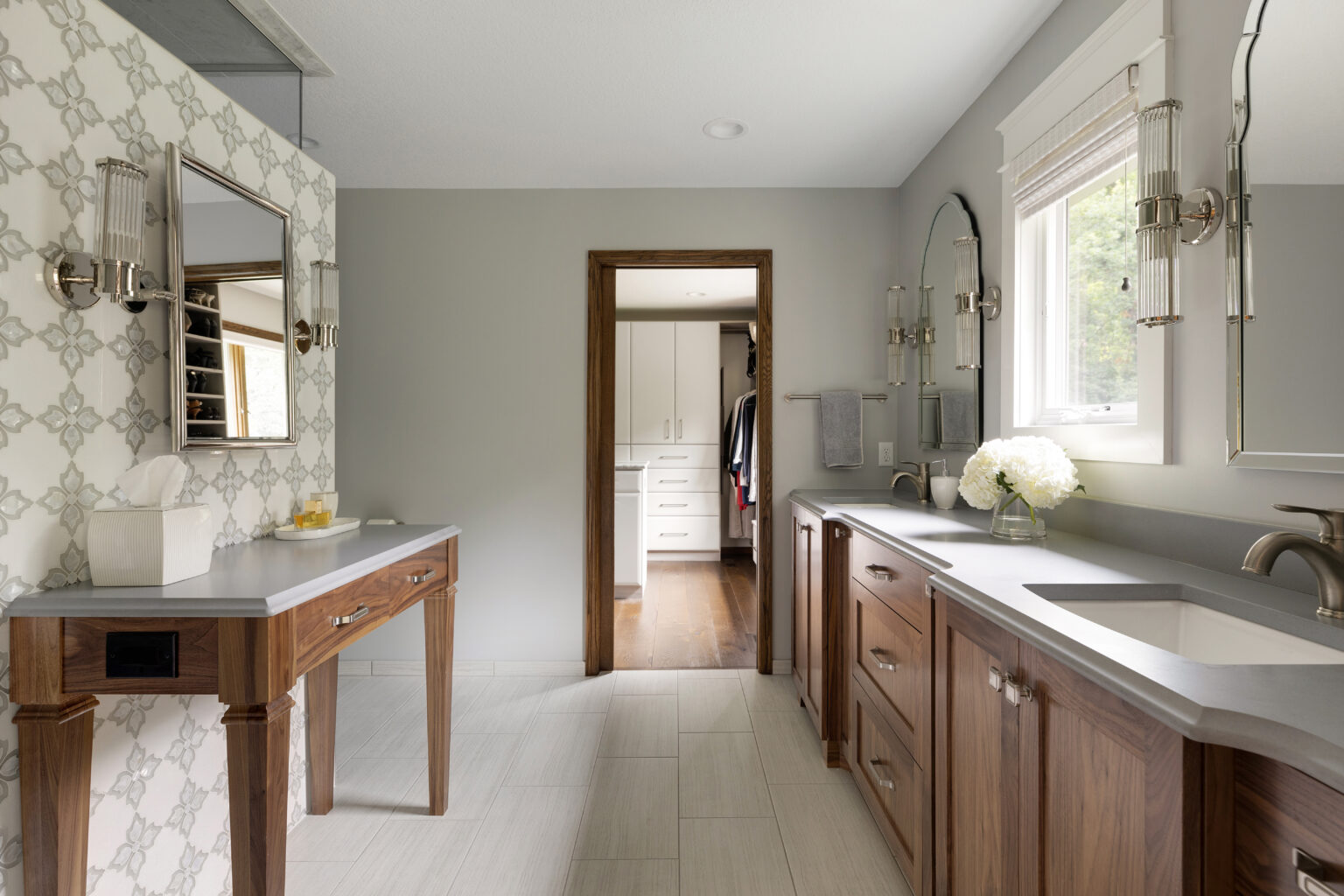 Bathroom Remodels: 2023 & Beyond
Ring in 2023 by planning out your beautifully refreshed bathroom. As a leading Twin Cities bathroom remodeling company, we help our clients create the space of their dreams with expert support, guidance, and communication.
Are you feeling inspired to begin? Go ahead and reach out to our James Barton Design-Build team! Tell us about your current bathroom frustrations and how we can help turn it into a space you love.