While you might have clear ideas about your next bathroom's shower, tile, and cabinetry you might be feeling stuck when it comes to fixtures. After all, these details usually come later in the planning process. However, if they're thoughtfully chosen, the right bathroom hardware can bring your newly remodeled bathroom to life. 
First Things First, Should I Choose Matching Bathroom Faucets and Lights?
While it might seem intuitive to match bathroom hardware, it's not a requirement. On the contrary, you can achieve a more exciting design by mixing metals in the bathroom.
"Choosing complimentary bathroom fixtures allows for more nuance," says Kayleigh Queoff, one of  JBDB's designers. "Don't feel like you have to stick with all matte black or brushed nickel. Our team can help you select hardware that's stylistically cohesive." 
Bathroom Hardware Ideas
When it comes to choosing your faucet, shower head, towel holders, and toilet paper holders, a stream of decisions awaits. Here are some tips to get you started:
1. Commit to a Style – Start to Finish
Whether you're going for a traditional, contemporary, industrial, eclectic, or modern look, let that inform your decisions down to the final faucet. If you've decided to go for a modern look, for example, a vessel faucet will fit right in! On the other hand, a traditional design might call for a more traditional option.
2. To Blend or to Contrast
When it comes to bathroom hardware colors, you have two main choices: blend into the existing color scheme or go with options that stand out. Both can be incredibly beautiful. Check out the two examples below to see how they work:
| | |
| --- | --- |
| | |
| The hardware seamlessly blends together within the overall design for a serene feel.  | These contrasting options create a modern, stunning visual.  |
3. Factor in the Features
Do you dream about a rain showerhead or towel warmers? The bathroom is one of those spaces where you can get detailed about functionality. Technology and customizable features allow for tons of personalization. Custom shower digital controls allow you to turn your shower on from your phone and even control temperature. 
"From his and hers sinks to oversized showers, little luxuries can make a big difference to your day," said Sydney Monson, one of JBDB's designers. "Think about how you want your bathroom fixtures to work for you, and our team can make it happen." 
4. Longevity & Beauty
Once you commit to a bathroom remodel, you want it to last. Not to mention, most of these elements get used often throughout the day, especially faucets. Brushed nickel is a timeless look that will always be around. Not far behind them are oil-rubbed bronze, matte black, and polished nickel. We're happy to talk you through the differences during the design process.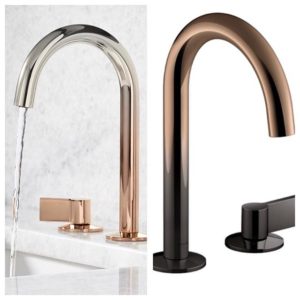 5. Don't Forget the Finish
Once you've decided on your bathroom accessories, there are more choices to make, including the finishes. Brushed finishes are great for hiding fingerprints and water spots, while polished finishes offer a sleeker, cleaner look. Ombre fixture finishes are beautifully bold; matte finishes are particularly striking. 
Just as you can use a mix of metals in your bathroom hardware, you can choose different, but complementary, finishes, too! 
You Deserve a Bathroom You Love
If you've been thinking about overhauling this hard-working space in your home, now is the time! You should have a beautiful space to prepare for an action-packed day and unwind at the end of it. Whether you want to increase storage, update bathroom accessories, or execute a whole new look, the team at James Barton Design-Build works alongside you to create a bathroom that's gorgeous, functional, and uniquely yours. 
Inspired? Request your own home design consultation.