Split level homes were all the rage in the 1950s and 1960s when the post-war economic boom was in full swing. In fact, the Twin Cities, St. Paul in particular, is full of them. But in recent decades, their boxy, angular design has been seen as outdated.
The good news is you can easily increase split level curb appeal for your enjoyment or for future homeowners.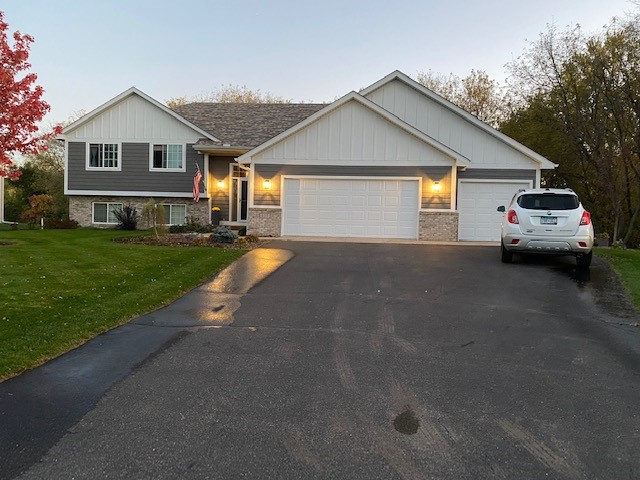 How to Modernize a Split Level Home Exterior
Follow these design ideas from our JBDB experts to modernize your split level house, transforming it into a stylish, functional space.
Choose a new color scheme
Use deliberate paint or siding color choices. Freshen the exterior with a neutral shade like white, grey, or beige.
"Choosing exterior colors can feel overwhelming, but we'll help you narrow in on shades you love," said Sydney Monson, one of JBDB's designers. "If you don't want to re-design the entire exterior, we can always reside or paint a specific portion."
Remove or update your shutters to open things up
Shutters are a classic component of a split level; removing them gives your home a contemporary feel. If you can't stomach the idea of getting rid of shutters altogether, the JBDB team can help you choose between different styles, including panel, louver, or board and batten shutters. Custom shutter colors can make your home stand out. Match them to your front or garage door to pull the whole look together.
While you're at it: Swap in bigger windows to work against the traditional split level style.
Refocus the eye with the addition of a porch
If you don't already have a front porch, consider adding one. A small porch doesn't just give you a place to enjoy the warmer months; it actually pulls the eye's focus — making your main entrance the focal point of your home, instead of the garage.
Install a new door to welcome friends & family
Update your front door or garage doors. For front doors, consider glass or french styles. For the garage, look through carriage-style or contemporary designs.
Reconfigure the upper level for more space inside & out
A strategic home addition not only adds room inside; it also drastically updates the outside.
"You don't need to add much square footage to increase the usable space in your split level home," said Kayleigh Queoff, another JBDB designer. "A few feet can radically transform your home's look and feel."
Revitalize Your Split Level House
Your split level home doesn't have to be stuck in the past. Refresh the exterior and become the talk of the neighborhood! James Barton Design-Build transforms homes all over the Twin Cities with stunning designs you'll love coming home to every day.
Request a consultation for your next exterior home remodeling project with our award-winning team. And keep an eye on our blog for more design insight and inspiration.