Like laundry rooms, mudrooms often bear the brunt of a family's messes—tracked-in mud, sports gear haphazardly tossed on the ground, stacks of mail—you name it! The mudroom is the crucial transition zone in and out of your home, which means it needs to serve the needs of your family. But that doesn't mean you have to sacrifice your mudroom's design in the process!
JBDB's designer Samantha Schmitt covers some ground rules on how to make sure your mudroom looks beautiful—while also withstanding daily heavy use. 
#1: Create Storage Wherever You Can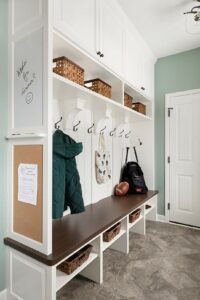 Even if you don't have a large amount of square footage available, clever mudroom storage tricks will help ensure that everything has a place. One of the most common storage requests are cubbies. "I don't foresee that going anywhere anytime soon," said Samantha. 
"People seem pretty specific on whether they want their storage open or closed," said Samantha, "but I do typically recommend incorporating at least some closed storage options to hide away clutter."
If your mudroom space is limited, Samantha suggests using lockers or open storage to help things feel more open. Designating specific lockers or cubbies to each family member helps maintain a sense of organization.
Benches can easily work double-duty by not only providing a place to sit and put on shoes, but they also offer more storage. You can either store shoes underneath a bench, add drawers, or create a bench where the top lifts up for seasonal storage items. 
#2: Don't Ignore Foot Traffic
There are plenty of stylish and durable flooring options out there, so don't feel like you have to choose one over the other in your mudroom design!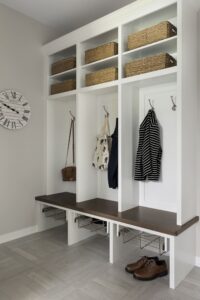 "A lot of the time now, we are installing luxury vinyl tile or luxury vinyl planking," said Samantha. "With those flooring options, you don't need to worry about water damaging the floor, and you don't need to worry about scratches. Even vinyl sheet flooring works well, and you could choose a fun print for some visual interest," she said. 
Tile is another durable option for a mudroom, since it is easy to clean and holds up well against mud, moisture, and scratches. JBDB's designers can discuss flooring options with homeowners to help them navigate through the wide variety of choices and determine which will work best for their family!
#3: Have Fun With the Finishing Touches
After thinking through durable materials and practical storage solutions, make sure to have fun with the finishing touches! Whether it's a unique light fixture, a fun paint color, or incorporating a one-of-a-kind vintage piece, be sure to make your mudroom beautiful, as well as functional. 
"In a sense, a mudroom is like a powder room," Samantha said. "It can be a little different than the rest of the house, and there's a little more room for taking risks and incorporating patterns and textures."
Dress up custom storage by making it look more like a piece of furniture than simple cubbies. Add a bright accent rug, hang a favorite family picture or piece of art, or find some unique hooks to hang your coats on. 
Talk to Our Team to Bring Your Mudroom Ideas to Life
Though it's a functional space, your mudroom can be anything but boring.
Check out our portfolio to get inspired!
To get started on a well-planned, durable, and enjoyable mudroom update,
contact the
JBDB
team
to discuss your options today.