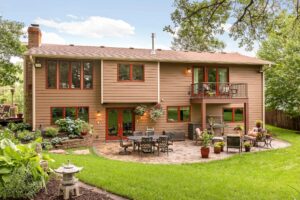 With summer here, longer days and more free time offer the perfect opportunity to tackle some of the design projects still lingering on your to do list. Many can even be completed while you're off at the lake house or on vacation, allowing you to take full advantage of your Minnesota summer. Here are our some of our favorite summer remodeling ideas:
Exterior Updates
Since you'll already be spending more time outside, why not make the most of your surroundings by giving your exterior a facelift! Adding landscaping, stone walkways, a fire pit, a new deck or patio, or new siding will re-energize your home and boost its curb appeal.
Custom Storage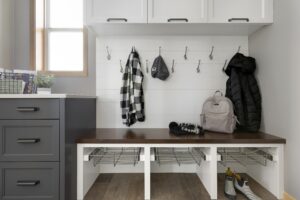 Organizational projects can be personalized to improve your space's function and keep everything in its place. Consider storage ideas to better arrange your rooms and reduce clutter: custom built-ins in your closets or mudroom, an expanded pantry in the kitchen, or new vanities, drawers and shelving in the bathroom. Creating storage solutions for your family can make a huge difference on your daily routines!
Home Additions
Home additions can often be a lengthier process, so getting started on them in the summer is recommended to get the foundation in if one is required for your addition. While a home addition can be completed in a summer, it's important to plan ahead so the design and drawings can be ready to go as the weather starts to warm up. By getting an early start on design, it will ensure that your space is ready to use in the cooler months.
Finishing Your Basement
Like an addition, finishing your basement can feel like a massive undertaking. Doing a basement project during the summer means you'll be ready to cozy up in your new media room, studio, home gym, or basement bar come winter. To keep plans on schedule, have clear goals in mind for the details and purpose of the new space. At JBDB, our team works with homeowners to ensure clear communication throughout the process – start to finish – so you always feel like you're in the loop.
Schedule a Consultation
Once you've decided on a project, you'll want to talk to professionals to bring your plan to life. As an award-winning member of the Minneapolis home remodeler industry, we're confident that our designers at JBDB will help achieve your design dreams. Reach out to us now for a

consultation

to get started!