The start of a new year always brings a breath of fresh air – motivating people to start fresh and tackle new projects. If you're looking to give your home some updates this year, JBDB's designer Emily Thull has some design trends and tips that can freshen up your whole home.
Skip the Shine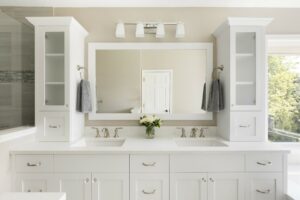 "Matte finishes – whether it's flooring, countertops, metals or tile – are still a strong trend for 2019," says Emily. Matte finishes can help hide stains and spots and provides a subtle, modern spin on traditionally glossy surfaces.
"There used to be only a few choices in honed countertops, but now almost any color in certain brands can come in a matte, honed option," says Emily. "Homeowners are choosing matte paint for cabinetry and trim work rather than glossy finishes, too." Homeowners can choose a topcoat on their hardwood floors that have a matte finish instead of the traditionally shiny look.
Metals have also taken on the matte look, Emily says. Whether it's matte appliances for the kitchen or choosing a matte finish on black, brass, or copper hardware and fixtures, toning down the shine on design pieces can help create a more layered look to a home's design.
Browse Photos of More Bathroom Design Trends!
Shapes and Patterns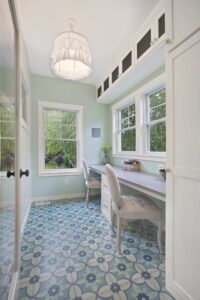 2019 is the time to break out of the square mold and venture into other shapes and patterns, especially when it comes to tile. "Patterned tile is still going strong," says Emily. If homeowners are reluctant to incorporate a bold pattern into their bathroom renovation or kitchen remodel, starting small is always a good idea, Emily suggests.
"A fun, patterned tile can be a nice little surprise on a bathroom floor or as a backsplash in the kitchen," says Emily.
And if a patterned tile isn't your style, it doesn't mean you're limited to squares and rectangles for your tiling options. "Doing tilework in special patterns –  such as a chevron or herringbone pattern – or using a triangle-shaped tile instead of a typical square, will help achieve some texture without using a busy-patterned tile," Emily says.
Instead of picking a grout to blend in with your tile, choose a contrasting grout color to highlight the unique shapes and patterns of your tilework. "Think of grout as an accent," says Emily. "If you've got a light tile, pick a dark grout, or vice versa." This allows the tilework to stand out, even if you didn't pick a bold or bright tile color.
See Photos of Even More Home Design Trends!
Think in Black and White
White has always been a classic interior design staple, and black has recently made its way into home design, as well. Using a black and white color scheme as a starting point provides a lot of ways to add and make it your own, says Emily. "Starting with a black and white color palette allows you to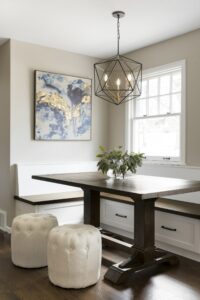 play with colors and textures, such as incorporating wood or stone elements or a favorite accent color, while still making everything feel cohesive," she adds.
The trend to use black in a home's design has also branched out into other dark colors. "Homeowners are becoming more and more okay with using dark colors like navy, charcoal, and deep forest green on their kitchen cabinets, backsplashes and more," Emily says. Strategically including dark colors into a typically white design can create a focal point to the room and add depth.
Browse Stunning Kitchen Design Photos! 
Get Smart About Technology
"Smart appliances used to be a niche thing," Emily says. "But now, more and more smart devices and appliances are compatible with home devices like Amazon's Alexa – which makes it not as foreign to homeowners and gives smart home technology more of a mass appeal."
Whether it's telling your range to preheat to 350 degrees or using an app-based device to turn on your shower to a specific temperature, if you're looking to streamline or simplify something with smart technology, 2019 will provide plenty of apps and devices to help.
To get started on your 2019 plans for your next home renovation, talk to the design-build team at JBDB today!