This year, your kitchen has most likely seen more use than ever before. As one of the most-used places in the home, it's important that it not only functions how you need it to, but that it also is a place that you enjoy spending time in. One of the key components of any kitchen design is cabinetry and how cabinets work for your storage needs. If you're planning on giving your kitchen an update in the near future, here are some of the kitchen cabinet design trends for 2021 to inspire you!
1: Embracing Color
Neutral color palettes have been dominant over the past several years, but if you're craving more than just white or gray, now is a great time to embrace color in your kitchen renovation! 
Darker blues and greens are especially popular for kitchen cabinets; but pale sage greens, light blues, and even light blush colors are also showing up in kitchens. If you aren't ready to commit to a kitchen renovation that's packed with color, start by using color on your kitchen island.
2: Mix and Match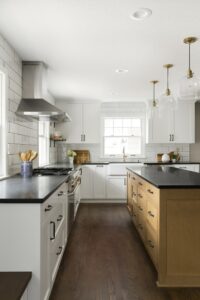 Whether it's with color or wood tones, your kitchen cabinets don't have to come as a matching set! If your kitchen island has a lacquered paint color on it, the perimeter cabinets could be a stained wood, a more neutral paint color, or a different shade of your island's color. 
Using both stained wood and painted cabinets can give your kitchen a warmer, more blended feel.
3: Furniture Features
With open concept floor plans continuing to be a strong trend, it's important to blend the kitchen design with the dining room or living room spaces. One way to do this is by adding furniture-like features into your kitchen. 
Many kitchen cabinet designs are featuring upper cabinets that go all the way down to the countertop, similar to a hutch. This provides extra storage space that can easily hide countertop appliances or other clutter. 
Turned wood legs on kitchen islands are another way to blend more modern kitchen needs with the feel of a traditional dining room table. 
4: Custom Storage Solutions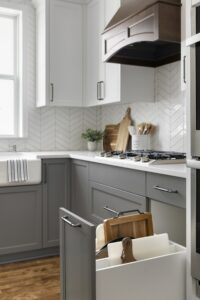 No matter what your style is, thinking through you and your family's kitchen needs – and designing the kitchen accordingly – is essential. If you cook or bake a lot, having custom drawers and pull-outs for oils, spices, or baking racks might be a good idea. Custom pantry storage can also make sure that your grocery hauls stay organized.
Let the JBDB Team Walk You Through the Process
A kitchen renovation can feel daunting! The
JBDB
team will walk you through the entire
process
and help take your inspiration and ideas and turn them into a reality. Check out our
portfolio
to get inspired and talk to our team to get started!