Are you missing the time when you could have a night out with friends? Are you looking for a place to unwind at the end of the day? Incorporating a bar into your basement renovation might be the perfect solution. If you're planning on finishing your basement or if your existing basement is in need of an upgrade, consider adding in an amazing basement bar and create your own destination retreat right in your own home!
Why Add a Basement Bar?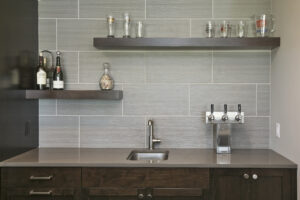 Spending more time at home has pushed many homeowners' renovation goals to the top of their to-do lists. From kitchen renovations to home office spaces, it's been important for families to have their home work for their needs. 
Now that many people work from home and aren't seeing friends and family, many homeowners are feeling the need to have a place to unwind at home. Creating a recreational area in your home isn't simply about adding a bonus space – it's about creating a clear separation from your work and home life. 
What Should I Keep in Mind?
One of the benefits of a basement design is that you have some freedom to create a look and feel that is different from the rest of your home.
"A basement bar is a great opportunity to explore a new design style and incorporate a fun color or unique tile to make a statement," said Sydney Monson, one of JBDB's designers.
Take a look at some of these styles and get inspired!
1) Sports Bar
If you love cheering on your favorite sports teams, creating a basement sports bar is the perfect way to show some team spirit! Using darker wood tones, having a pool table, and placing a TV in a prominent place are all great ways to create a perfect hangout spot to watch a game.
2) Rustic Farmhouse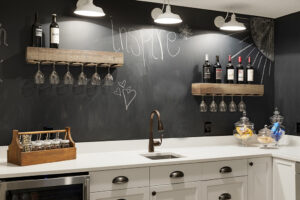 Create a cozy, rustic feel in your basement bar for the perfect place to sit back and relax! A farmhouse-inspired design will create a comfortable, approachable feel to your bar area. Incorporate metals and reclaimed wood to bring this style into your home bar design.
3) Family-Friendly
Another take on a basement bar is one that the whole family can enjoy! Include a popcorn machine, snack bar, and refrigerator for drinks and appetizers. Consider adding a movie projector in a basement den to create the perfect environment for a family movie night.
"Creating fun extra spaces in your home can help you feel like you're getting out without leaving the comfort of your own home," said JBDB's designer, Kayleigh Queoff. 
4) Speakeasy

A dark, moody basement bar would be the perfect place to relax with a cocktail. Adding textures, rich accent colors, a fireplace, and comfortable furniture by the bar can turn your basement into a perfect escape from the work week.
Talk to the JBDB Team

With any basement renovation, it helps to work with a professional to assess any structural or HVAC needs, and to help you make the most of your basement's square footage. At JBDB, our skilled Twin Cities design-build team will walk you through the process and help you create a basement that is the perfect place to relax! Talk to us today.
"*" indicates required fields