One of the biggest pain points for homeowners in their kitchen is storage – specifically, a lack of storage. And with the current trend of removing upper cabinets to create a more open feel, it's crucial to be strategic about storage throughout the rest of the kitchen. 
As you plan your kitchen remodeling project, thinking about how your kitchen pantry can work best for you is key. JBDB's designer, Samantha Schmitt, shares some tips on how to create the perfect pantry!
#1: Design for what you have now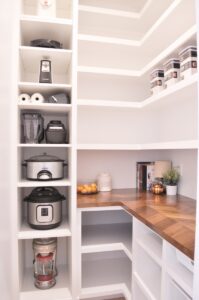 Samantha suggests you pay attention to what is currently taking up counter space in your kitchen. "If you have a coffee maker, toaster, or other smaller appliances, take those into account as you're planning your pantry," she said. "Include them into your design plan, so you know they have a designated place in your new pantry."
#2 …But be flexible for what you have later
"I'd generally recommend adjustable shelving in a pantry, because you will want to keep this space versatile," Samantha said. "What you have in there today, you might not have in three months. Don't get so custom that you can only store certain things a certain way–you want to retain a certain amount of flexibility."
#3 Think about the extras
Do you use lots of produce? Consider adding some wire vegetable drawers to your kitchen pantry design. 
Do you bake all the time? Maybe add in a countertop for your mixer and baking supplies. 
Do you host a lot of get-togethers? Tucking a beverage fridge away in the pantry is a great solution.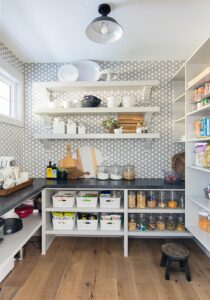 #4 Have fun with the design
Since it's a small space, Samantha says a pantry is a great space to have a little fun. "If you're doing cabinetry, you can do a brighter color," she said. "Since a pantry door is closed most of the time, the color palette isn't going to compete with the rest of the kitchen."
If you have open shelving in your pantry, feel free to do something more than just plain white shelves and white walls! Samantha recommends adding interest with wallpaper, shiplap or tile.
#5 Talk with experienced kitchen designers at JBDB
Planning a kitchen remodel can be an overwhelming process without an experienced team helping you through it. The Twin Cities design-build team at JBDB can talk with you about your needs and how to make your kitchen work best for you and your family.