Oftentimes, the entryway is a guest's first glimpse into your home. While an entryway needs to serve a utilitarian purpose, it's also a perfect place to make a first impression! Welcome people into your home with a space that reflects you and your family. JBDB's designers, Kayleigh Queoff and Sydney Monson, provide tips on how to create a statement entryway.
Make it Function
Before diving into design, you first want to think about who uses the entryway. If your home has a mudroom by the garage that is used as the main entrance, then your entryway may not need as much storage space.
However, you'll want to make sure that there are some functional elements to your entryway design. An important feature that you should always consider is a place for guests to hang coats and put away shoes. "It can be as simple as coat hooks on the wall and a bench with storage to keep things tidy," said Sydney.
Depending on the space and the type of flooring you have, you might want to have an entryway rug or a runner to protect floors from foot traffic.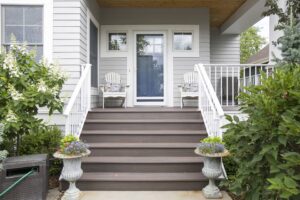 Make an Entrance
One of the key parts of an entryway? The entrance, of course! Consider replacing your entry door type with one that reflects your style. From beautiful French doors to rustic-inspired or bright and colorful doors, there are plenty of options to extend your aesthetic to your front entry!
Make it Your Own
Now is the time to make an impression! "Think about the feeling you want people to have when they walk through your door," Kayleigh said. Whether it's a grand, impressive entryway or a cozy, farmhouse-inspired space, having a clear idea of how you want to greet guests will help you put the design pieces in place.
Choose a paint color that will reflect the overall look you're going for. Lighter, neutral colors can be relaxing and modern; darker colors can feel cozy and moody.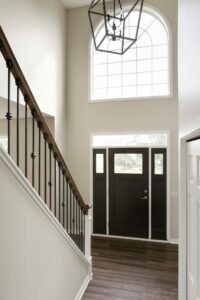 "Adding trim to the walls is another way to define an entryway, add texture, and create visual interest," said Sydney. Board and batten, beadboard, or other wainscoting options will add some personality to your entryway and make a statement.
Including other touches like statement lighting, unique door hardware or a different flooring type are all ways to help bring the entryway space together and make it truly yours!
Talk to Our Twin Cities Remodelers
If your entryway space is in need of an expansion or just an update, talk to our Twin Cities home remodelers to get things started! From custom storage solutions to creating a welcoming place in your home, the JBDB team will work with you to design a beautiful, functional entryway! Contact us today to learn more.