After years of making memories and adding personal touches to a home, consumers often feel settled and want to stay in their home long after their families have been raised.
To make that a possibility, it's important to make a home accessible at any age. If you're looking at a house renovation to make your home comfortable and accessible as you age, take a look at the following tips for universal remodeling designs that are not only practical but look beautiful too!
Open Concept Layouts:
Open concept designs are ideal for aging in place. Wide hallways, fewer thresholds, and open spaces easily allow for wheelchairs and walkers to navigate and turn around. It's also helpful to have the primary living areas on the main level – including laundry (with front-loading washer and dryer), a bedroom, and a full bathroom.
For a Kitchen Renovation:
If you're planning on remodeling your kitchen, there are some items to keep in mind to make your kitchen age-accessible down the road.  Make sure that new appliances have easy-to-read controls. Consider installing reduced height countertops along with a counter-height microwave for easier access from a wheelchair. Motion sensor faucets are available in a variety of finishes and styles. A side-by-side refrigerator/freezer also helps with accessibility.  Glass front cabinets and pull down shelving are not only on trend, but make it easier to see and access frequently used items.
Accessible Bathroom Renovations: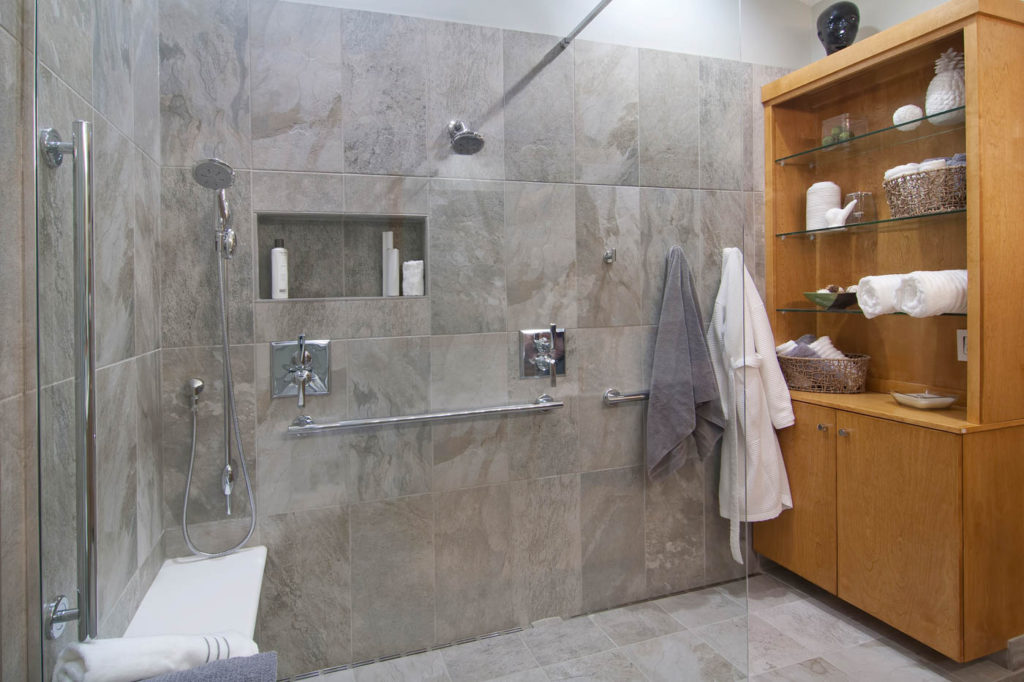 One of the benefits of bathroom remodeling for handicap accessibility is that you are not only planning for the future, but you also get to update the overall look of your bathroom as well! Creating a large, walk-in shower with a bench ensures a person of any age can comfortably and safely use it. Adjustable or hand-held showerheads come in a variety of finishes to complement any design, and are functional for the long-term, too. It's also important to make sure to install conveniently located grab bars and slip-resistant flooring where possible.
If you're ready to make your home comfortable and beautiful for years to come, check out the Twin Cities remodeling experts at James Barton Design-Build. Our team has extensive experience in home remodeling in Minneapolis and surrounding areas. View our aging in place gallery to see some of our projects and get inspiration on how your home renovations can be both practical and beautiful for years to come!