With the fall season upon us, cooler temperatures and cozy fireplaces are calling our names! If you're planning on having people over for football games, potlucks, or holiday gatherings, here are some basement refinishing ideas to help you create the perfect space for hosting a crowd. 
Make it a Destination
Don't feel like your basement has to match the rest of your house's style. "Your lower level is a great opportunity for a different vibe in your house," says JBDB designer Emily Thull.  "A fun, new environment in your basement design creates more of a destination," Emily says. "Think of it like going out to a restaurant, where there is a different feel – but it's in your own home!"
For instance, if your house has a more traditional look, consider turning your basement into a rustic retreat, a fun speakeasy lounge, or a bright and modern entertaining space to give your basement its own personality!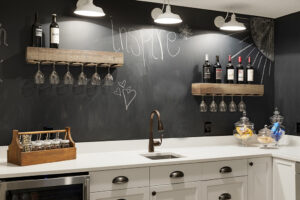 Think Beyond the Bar
A feature of many basements is a bar – not only is it a great spot for people to gather and get a drink, but it's also perfect for hosting a group to easily serve a buffet. But don't let traditional ideas of a bar limit you! A "snack bar" can be built into a wall and serve as the perfect place to stock up on popcorn and soda for family movie nights.
You also don't need a large space to have a bar area that makes a statement. Custom built-ins can frame a small dry bar and still provide the perfect place to mix a drink and show off some design details. Backing your built-ins with unique tiling or mirrors can make the bar a standout feature without taking up too much space.
Create Flexibility
When renovating your basement, it's important to keep flexibility in mind and have the space work as your family grows and changes. For instance, an open play space for younger children can become a great place for a pool table down the road.
Having flexibility when it comes to seating is important, too. Accent chairs and ottomans that double as an extra seat can be moved around to accommodate for a larger crowd just as easily as for a family movie night. A bar ledge behind a couch is more casual perch than rigid stadium seating, and provides an extra place for people to gather.
If you're thinking about finishing a basement or want to start a basement renovation, the designers at

JBDB

can help bring your game plan to life! Check out our lower level portfolio for before and after inspiration, and contact us today!