Is the lower level of your home in need of an update? The lower level of your home is a prime candidate for creating a space that is perfect for the needs of your family. "We work with a lot of families and typically when a basement is being renovated, they want to create a space that is still kid friendly – even more so than the rest of the home," says JBDB designer Emily Thull. "They want an environment they can relax in and not get worked up if a game of foot hockey ensues. Durable and low maintenance finish materials are always key!"
Whether you want an entertainment area, extra bedrooms, a wine cellar or an amazing home theater, you can transform a boring basement into a functional and well-designed space that your family will truly love.
Step 1: Make a Plan
Try and determine what you feel like your home is currently lacking. "With so many design ideas right at our fingertips, it is easy to get carried away and want it all!" says Emily. "The first step is to really do research and figure out what it is you want to accomplish in your space and then to set a realistic budget and timeline to achieve your goals."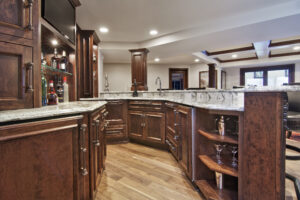 Do your teenagers want a hangout space? Creating a large den or movie theater in your lower level might be a good idea. Are you empty-nesters who want to entertain? Adding a bar, a pool table or gaming area, or even an outdoor kitchen area connected to your lower level might be the answer.
Step 2: Make it Personal
Considering your favorite hobbies might also help you envision your lower level in a new way. "With the craft beer scene and home brewing being so popular right now, why not create a pub at home?" asks Emily. "It is a more relaxed and comfortable take than a typically more traditional wine cellar."
Sports enthusiasts could designate some space for their hobbies. "If you have the space and height, you could bring the outdoors in with a sport court or golf simulator," Emily adds. And if you'd rather leave the sports outside, using bonus space for a craft room or gift-wrapping station is another great option.
Step 3: Make it Shine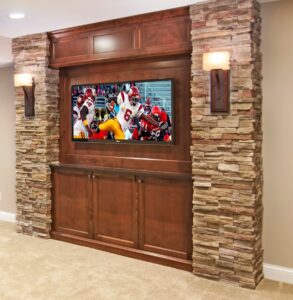 When it comes to brightening up a dark basement, layering your lighting is essential. "Getting a great lighting plan isn't just as easy as plopping in some recessed lights and calling it a day," Emily says. "A well thought-out plan can really make or break a space."
"Ensuring that the lighting is not just coming from the "top down" (i.e. ceiling only) helps create intimate, cozy spaces that you want to spend time in. And if you do have a lower level that is lacking natural light, why not elaborate on it and create a moody destination? Think movie theater or speakeasy lounge…embrace it! Use textures and finishes to create a cozy environment."
Step 4: Make it Happen!
If you're considering finishing your basement or renovating your existing basement, speak with the experts at JBDB. "Working with a professional is an absolute must," Emily says.
"A lower level renovation is a huge investment and you want to make sure you are following all building codes and using your dollars wisely. Not all homes are built the same, and there are a lot of different factors that go into how a space is finished off."
To get inspiration on how to transform your basement, check out our portfolio of basement remodels! The JBDB design-build team can help homeowners with their basement design, modify existing floor plans to maximize their space, and design and install the lower level of their dreams.