A range hood can quickly become a focal point of your kitchen. Whether you use it as a gathering space for friends and family or prefer cooking solo, this element is crucial to eliminating odors, smoke, and heat in your home. Not to mention, the design contributes to your kitchen's overall aesthetic.
As you plan your kitchen remodel, let these considerations guide you to a choice you'll love. 
Custom Range Hood Surround Ideas 
Investing in a custom vent hood surround means you can articulate precisely how you want this element to look and function in your kitchen. Not sure how to begin the process? There are plenty of options out there these days, but here are three to consider.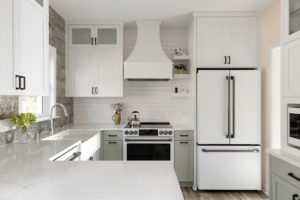 Wall-Mounted Range Hood
This is the most traditional option; there's a reason why it's been popular with homeowners for so long. There's plenty of room to create a unique stylistic design that's just as effective. 
"A beautiful range hood is enhanced by showstopping backsplashes," says Sydney Monson, one of JBDB's designers. "This partnership brings your whole kitchen together." 
Under Cabinet Range Hood
If you're going for a simpler kitchen design, an under-cabinet hood fits right in. 
"Its compact design gives it a more understated look, which works well if you already have a unique focal point in your kitchen, such as an island," notes Kayleigh Queoff, another experienced JBDB designer. 
Downdraft Range Hood 
A downdraft range is just as effective as overhead ventilation systems in removing smoke and odors but is integrated right into the surface, offering a more minimalist look. 
"If you are going for a sleek, modern look, a downdraft range is a smart choice because they don't take up any additional space," adds Monson. "This means you can get back some additional storage you might be wanting." 
Custom Range Hood Details 
Once you know how your range hood fits into your overall kitchen layout, it's time to hone in on the nuances. Perhaps you're envisioning custom paneling, contrasting trim, or a unique design. Or maybe you want to use a bold, bright color. Our team can talk you through all of the possibilities!
Consider Your Kitchen's Style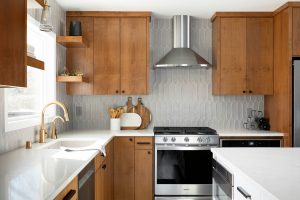 You don't want a vent hood that sticks out like a sore thumb. Whether your kitchen leans more modern, classic, rustic, or minimalist, choose a complementary style. For rustic styles, a wood vent hood would work. Want more sleek and modern? Try a black metal vent hood to make a striking statement.
Choose The Right Material
Most vent hoods are made from steel, zinc, or brass, but non-traditional materials create a stunning look, including wood. Think about the fixtures you envision in your kitchen design. Do you want consistency throughout or something contrasting? It's up to you.
Experts Here to Help
However you want your kitchen to feel and function, our team of experts can help you weigh the advantages and considerations for each choice. Our goal is that you feel confident about every aspect of your kitchen remodel. 
Cook in Your Dream Kitchen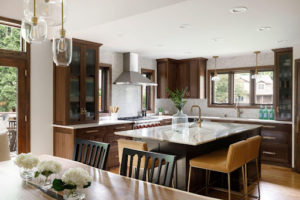 Maybe your kitchen has been feeling a little cramped; you wish there were more storage space, or you are craving an open concept that connects to your living or dining room. Take a closer look at our previous kitchen remodels. The James Barton Design-Build Team can listen to your ideas and turn them into a reality. 
Schedule a consultation and take the first step toward your kitchen remodel.