Kitchen countertops are often a key focal point of a kitchen. It's where we prep food, host family gatherings, and sometimes even do homework! Let's look at a couple of countertop trends to inspire your future kitchen remodel. 
Kitchen Countertop Ideas 
There are an array of countertops out there for you to consider. Let's look at three popular stone options. 
Quartz Kitchen Countertops. According to a Kitchen & Design Bath News survey, engineered quartz has emerged as the most popular material for kitchen countertops. This manufactured material is beautiful and not porous at all. (That means no sealings necessary!) Our only word of warning: don't put anything hot on it — extreme heat can cause irreversible damage. 
Granite Kitchen Countertops. Granite remains a close second when it comes to countertop materials. Known for their beauty and durability, granite countertops elevate any kitchen design. Note: granite countertops do require annual sealings. 
Marble Kitchen Countertops. If you're looking for an elegant and dramatic statement piece, marble might be for you. This material is particularly porous – even more than granite – so stay on top of annual sealings. Marble is prone to etching and stains (red wine, etc.), so it's a better option for people who can embrace a natural patina.
Want more ideas? You can also explore concrete, stainless steel, and butcher block countertops.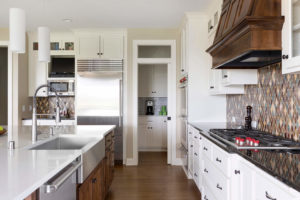 Popular Countertop Colors
While many homeowners go with whites, creams, and grays, black is gaining steam, especially (but not exclusively) in modern kitchen designs. Remember, you don't have to commit to one shade. Use two complementary colors for different areas to create an exciting design.  
Solid Color vs. Patterned Kitchen Countertops
Consider whether you want solid color kitchen countertops or intricate patterns — bold veining is trendy right now and probably will be for some time. Solid colors work well if you're opting for a busier backsplash. Alternatively, you could keep your backsplash simple and invest in an eye-catching countertop design. 
Glossy vs. Honed
Homeowners seem pretty evenly split between glossy countertops or honed surfaces. Shiny countertops are great if you have little ones running around; they tend to be great at hiding fingerprints. On the other hand, the light-absorbing quality of matte countertops means you can reduce the glare that often accompanies shinier surfaces. 
"As you select your kitchen materials, we encourage you to be hands-on. Hold and interact with our countertop samples to understand how they'll work with your everyday life," says Kayleigh Queoff, one of JBDB's experienced designers. 
Want to dig even deeper? Read more countertop trends from our team. 
Follow Your Aesthetic 
Countertop trends aren't nearly as significant as your personal preferences. As you imagine your kitchen remodel, know that you can (and should) incorporate the countertop material, style, and color that complements your style, regardless of trends. 
Beyond materials, colors, and veining, countertops also have overall thickness and edge profiles to consider. JBDB's designers will discuss your options to create a stunning focal point for your kitchen!
Feature a Fantastic Focal Point 
Hopefully, these kitchen countertop ideas have your wheels turning. Are you itching for a kitchen transformation? Our designers and builders at James Barton Design-Build love nothing more than creating a kitchen that crosses off all the wishes on your list. 
Take a closer look at our previous kitchen remodels. Then, contact us for a consultation.