Is there anything better than a delicious dinner party with your closest friends or family? If you love entertaining in your own home, you know people always gravitate towards the kitchen. Let's check out how you can create a space that's enjoyable for you and your guests.
Best Kitchen Layout for Entertaining
An open kitchen layout is really conducive to entertaining groups of people. It allows you to mingle with your guests and be part of the party, even while checking on what's in the oven. To make everything even more comfortable, here are a couple of elements we recommend including in your kitchen design:
 Kitchen Island – A kitchen island is a perfect prep space before a party, and works as an easy buffet once guests are ready to eat. For larger parties, keep a couple of extra stools handy so guests have a place to sit.
Seating Area – A cozy, comfortable table in the kitchen can be a fun spot to enjoy dinner (or breakfast the next morning!)
Walk-In/Butler's Pantry – Having an area that's out of sight from your guests means you have more room for storage, both for dried goods and rarely-used appliances. If space allows, consider adding a shelf and sink for food prep and clean up. That way your kitchen can stay clean throughout the evening.
Kitchen Flooring Ideas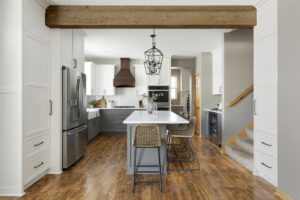 Laying down the right flooring option elevates the entire room's design. And choosing a durable material means it'll last, no matter how much foot traffic is coming through.
Luxury Vinyl Plank flooring (LVP) is an increasingly popular choice. LVP is ideal for high traffic areas and can also stand up to spills, making it a smart choice.
Tile flooring is incredibly resilient. Plus, it adds a touch of luxury to your overall kitchen design.
Wood flooring allows you to create a warm aesthetic. While wood can get easily scratched, you can add protective sealant so it stays looking new.
Kitchen Lighting Ideas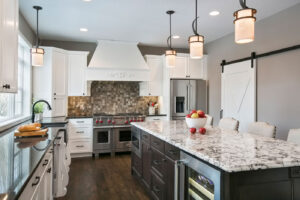 Perfecting your kitchen lighting adds ambiance both to the room and to the feel of the evening. To get the lighting just right, consider installing light fixtures above your island and seating area.
"Ideally, you'll want a mix of task lighting and ambiance lighting," said Sydney Monson, one of JBDB's designers. "Overhead lighting, pendant lights, and under-cabinet lighting can all contribute to different lighting needs."
At JBDB, our designers can develop a lighting plan that works for your family's needs and create a beautiful atmosphere.
Additional Touches
These little luxuries can make entertaining easier for you!
Warming Drawers – These drawers don't take up too much space and they're perfect for keeping dishes warm while ensuring the quality of the food remains top notch. This way you can get a lot of the cooking done ahead of time, and can concentrate on being the host once guests arrive.
Wine/Beverage Fridge – Having a space designated for wine or other beverages allows you to serve them at their optimal temperature. Don't have room? Consider building one into your kitchen island. You'll love being able to reach in and grab what you need without going through your main refrigerator.
Make Your Kitchen the Life of the Party
Sounds like it's time for a dinner party, holiday gathering, or Thanksgiving feast! The professional team at JBDB can help you remodel your kitchen into an epicenter of coziness, luxury, and fun. With our expertise, let's create a space that your guests will want to hang out in all night long.
Take a closer look at our kitchen remodels and then let's discuss yours!