Sitting on a cozy front porch is the perfect way to relax and enjoy a beautiful summer evening. JBDB's designers, Sam Schmitt and Emily Thull, provide some design tips on how to boost curb appeal and create a beautiful outdoor porch space for your family to gather!
Getting Started
If your home doesn't already have a front porch to work with, but you're thinking of adding one to your home, Emily said to first verify with your city's building code requirements, so you know what you're allowed to do. "It varies from city to city, but you definitely want to check first on their size requirements and restraints," Emily said.
Think About How You Want to Use Your Porch
"One of the most important things you need to think about with your porch is how you envision using it," Emily said. Depending on what you want, the size and layout will vary. "You might want to throw on a 10×10 deck, but what if it makes more sense to do an 8×12? You may want to mainly use your space to gather six people around a table, or maybe you see your porch as a place to grill and more casually lounge," she added.
Whether it's long and narrow, more squared off, or partially screened in, once you figure out how you want to use your porch, the rest of the design will start to fall into place.
Minimize Your Maintenance
Unless you have specific reasons to choose otherwise, maintenance-free composite porch materials are typically the most popular choice for homeowners. With all the choices now available in colors, plank sizes, and styles, it's easier than ever to find a composite material that will give you the look you want — with no maintenance required.
That even extends to other design details, Sam added. "There are lots of maintenance-free railing and baluster options available and PVC products that look like wood — so you can have the look of wood without having to worry about it eventually rotting."
Reflect Your Style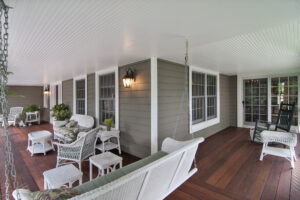 The options for furniture, planters, and other outdoor décor are endless, so the sky is the limit when it comes to how you want to make your porch design reflect your personality. Emily said that one of the biggest trends to keep in mind right now is the blurring of indoors and outdoors. "So many rugs and outdoor furniture textiles now have options that look like they could belong either indoors or out." Gone are the days of outdoor décor only having tropical prints or stripes!
Build Your Outdoor Porch Space with JBDB
Work with the
Twin Cities design-build
experts at
James Barton Design-Build
to make your exterior house project ideas come to life!
JBDB's
experienced team will help plan and design an
outdoor porch space
that works well with your existing exterior and creates a place you can't wait to use — contact us today!