It can be a struggle to get kids to finish (or start) homework. No matter where school is taking place this year, kids tend to do well with a specific area to study and work. A thoughtfully-designed homework station encourages concentration and organization, while establishing routine, an important element for kids of all ages. To help you create a designated area that's both productive and inviting, we've assembled tips from our JBDB designers. 
Keep It Simple
Don't worry about dedicating a whole room in your house to a study area. Because kids tend to gravitate towards smaller spaces, you can simply carve out a room corner or small section of the house. As long as it's comfortable, inviting, well-lit, and well-stocked, it'll see a lot of use. 
For the project, try converting an unused formal dining room, breakfast nook, or guest bedroom. You could even transform an under-utilized closet, with the doors taken off. 
Choose Natural Lighting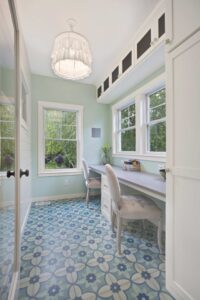 If you're able, place your homework area near a window. With an uptick in technology, it's more important than ever to provide kids with natural light. Natural lighting isn't only a beautiful way to lighten a space, but it's also easier on the eyes, which is great for long afternoons of reading and writing. Plus, having the option to open the window for a bit of fresh air can be rejuvenating during those longer study sessions. 
Embrace Uniqueness
Allowing your child's unique interests to shine through this design gives them a sense of ownership. 
"When we design for kids, we love asking their opinions about their own spaces," says Kayleigh Queoff, one of JBDB's designers. "They instantly become more excited about the project. And the more excited they are about their homework area, the more willing they'll be to use it." 
Whether they love cartoons, sports, or unicorns, let their passion and personality reverberate in the overall design. Have your child pick from a few paint colors for an accent wall, or let them choose a lamp that reflects their personal style. It'll help to inspire joy as they finish another math problem. 
Where Will You Be? 
If you're creating a homework station for younger ones, think about where you or the other household adults spend time. Are you often in the kitchen? Living room? Being close by allows you to pop in and help if needed. However, avoid putting this space too close to distractions, including the TV or high-traffic areas. 
Add a Spot for Supplies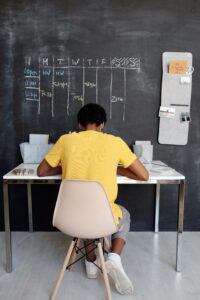 Sometimes the hardest part about starting school work is getting all of the necessary materials together! Make this area productive and clutter-free by gathering and organizing necessary supplies ahead of time. Work with your child to give each item a home and remind them that supplies go back in their designated spots when their work is done.
Use the wall to hang helpful charts (such as the alphabet or multiplication table) or a calendar to help them stay on track with projects! JBDB can add custom built-ins or other organizational solutions so you can make the most of your new space. 
Make It Comfortable
Above all – the more comfortable a homework station, the longer your student will stay in it and finish their work. Prioritize your child's comfort by finding a table and chair that really fits them. An adjustable desk is a great tool to utilize if your kid is growing quickly. 
Most kids are comfortable when their knees are bent at a 90-degree angle. If their feet aren't reaching the floor yet, grab an empty box or stack of books to put underneath the desk.   
JBDB Creates for the Whole Family 
With these tips, you're on your way to creating a kids study desk that's inviting and productive. Looking to create this unique space as part of a larger scale remodel? The designers at JBDB can design for kids while creating beautiful rooms for your family to live, work, play, and grow up in. Take a look at our interior design projects and when you're ready for a new look, contact us.