Has your kitchen ever felt more like a place for chaos instead of cooking? Though the kitchen is the heart of the home, it also ends up being a place that collects so much of the family's clutter. 
If you're thinking of remodeling your kitchen, you have a prime opportunity to create a kitchen space that works with you rather than fights against you. JBDB's designers, Emily Thull and Samantha Schmitt, give homeowners some tips on how to configure your kitchen storage to your advantage.
Pinpoint Your Frustrations
Your daily, frequent kitchen routines will tell a lot about what types of storage you should consider. And though you're always told to not focus on the negatives, when it comes to upgrading your kitchen storage, you first have to identify the problem areas. Emily says, "You have to think through how you use your kitchen. How are you currently storing things? Are you always frustrated when it comes to grabbing pots and pans or searching for the right spices? Do you do a lot of baking or meal prep?"
These are all things that can help you figure out what you'll need from your kitchen remodeling designs.
Get Inspired By Storage Ideas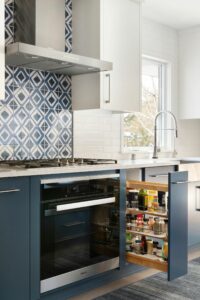 Once needs and frustrations are identified, now it's time to get creative! Here are some ideas on how to make your kitchen routine easier:
Spice Drawers
One common frustration is searching for the right spice in the middle of a complex recipe. "Spice bottles are all different sizes, and are typically put in an upper cabinet where it's really difficult to find what you're looking for," said Emily. 
Emily said, "Maybe it makes more sense for the spices to go in a drawer, where they can lay flat and you can see all the labels at a glance."
Pull-Out Cutting Boards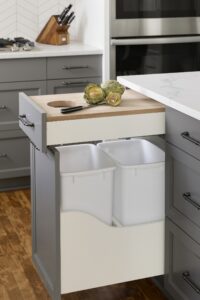 If you do a lot of cooking or meal prep, you might be reaching for your cutting boards daily. Instead of pulling them out of a lower cabinet each time, a custom pull-out – complete with a hole for pushing scraps into the trash below – would be a great solution. You could also do a pull-out, vertical cabinet drawer to stash other cutting boards, so you can easily grab exactly what you need.
Deep Drawers
Cabinet drawers can do so much more than hold your silverware! Deep drawers can be the perfect place to organize pots and pans, stack meal prep containers, or even hold your dishware for easy everyday use.
Hidden Storage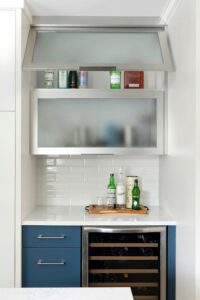 Flip-up doors and appliance garages are handy ways to access the things you use all the time – think coffee makers, toasters, and stand-mixers – but allow you to hide them when they're not in use. 
Keep your technology from cluttering countertops with a charging drawer, suggested Emily. "Having a designated place for tablets and watches, and incorporating that into the kitchen's design, makes a lot of sense for families," she said.
Create Your Custom Kitchen Solutions Today
Each homeowner has unique needs, and JBDB's design team can help homeowners with custom solutions to make their kitchen work for them! Contact our team today to get started!