Have you been dreaming of designing a new master bathroom? If so, it may be the right time to make your dream a reality. Master bathroom renovations, along with kitchens, tend to be one of the bigger interior renovation investments in a home, so it's important that you create something you truly love! Our JBDB team can help homeowners make sure each step is thoughtfully planned to ensure you get an amazing end result.
Step 1: Evaluate
Before you can start imagining a dreamy, luxury master bathroom design, it's important to first face the reality of what your current bathroom is like. What are the pain points? Is it cramped or dark? Are you lacking storage space?
Beyond wanting a beautiful bathroom, you want to make sure you are also solving any current problems you have. "At the end of the day, you need a space that functions – and functions well – for your day to day life," said Kayleigh Queoff, one of JBDB's designers.
Step 2: Contemplate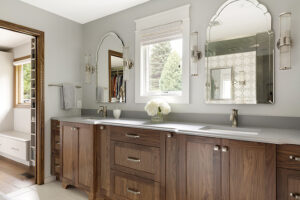 If storage is an issue, you'll want to make sure to include a vanity with ample space, or a linen closet for more storage. "Consider the types of storage you need," said Sydney Monson, one of JBDB's designers. "Do you have a lot of makeup or hair styling items? Do you have a lot of extra towels? You'll want to create storage space that correlates to the things you use every day, so you have what you need right at your fingertips."
If you struggle with good lighting, adding a window, a skylight, or carefully placed light fixtures can help brighten up your bathroom area. If several people are using the bathroom, consider creating a separate room for the toilet or adding a double sink vanity to accommodate multiple users.
Step 3: Design
Once you have thought through your needs, the fun begins! Whether you want a serene bathroom or a luxurious one, choosing tile, paint, plumbing fixtures and light fixtures can all help bring the space to life.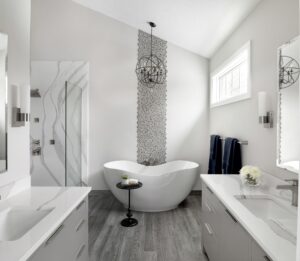 Gather some design inspiration and JBDB's designers will help you figure out what tile, plumbing fixtures, lighting, and vanities will work best for you. 
If you're looking for luxury, think about including a high-end steam shower, rain shower, or an amazing bathtub. Add in-floor heating so your bathroom isn't ever chilly.
Many homeowners stick to relaxing, neutral colors in their master bathroom design and opt for longevity versus trendiness. If you love a bright color or pattern, consider incorporating it into a bathroom rug or towels that can be easily changed out over time.
Step 4: Enjoy!
The renovation process can seem daunting, but working with a skilled team of professionals can make all the difference. JBDB helps homeowners identify their current problems and helps create beautiful solutions. As you walk through the renovation process, JBDB's team guides you through each step.