In almost every renovation, homeowners are looking to take down walls and create an open concept floor plan for their homes. Open concept designs can make the same square footage feel larger and allow families to feel more connected. To make this trend of large, open spaces work for you and your family, here are some tips to consider to bring your plan to life.
Bringing Down Walls
Each home is unique, and if you're thinking about creating an open floor plan in your home, you'll want to talk to a professional about the best way to achieve your goals. Pretty much any wall can be taken down, but if additional support is needed or if electrical, plumbing, or HVAC systems need to be rerouted, it could increase the cost of the renovation project. Our experienced team at JBDB will discuss the logistics and varying costs associated with taking down walls to help you figure out what the best options are for your home. 
Creating a Floor Plan
When designing an open concept floor plan, homeowners typically want to combine the kitchen and dining areas and join it with the living area. Sometimes that may mean using the existing dining space and expanding the kitchen into it, or reconfiguring how the living room and kitchen are laid out to ensure the open concept makes sense and still includes everything the homeowners need from the space.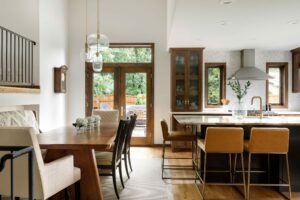 Our team can help you consider your options and help determine the floor plan that makes the best use of your square footage — and makes the most sense for your family.
Making it All Come Together
From a design standpoint, you want to make sure that the spaces feel cohesive. With an open concept design, you'll want the kitchen and dining space to seamlessly flow into how you decorate your living room. 
Sticking to a color palette is a big way to make sure the spaces work well together. Pick a neutral wall color to tie them together, and use a palette of supporting colors to incorporate throughout the kitchen and living spaces. For instance, if you have a stained wood island in your kitchen design, consider using the same stain on your fireplace mantel or an accent beam in the living room. Or if you have an area rug in your living room, you can use a runner in the same style in the kitchen. 
Talk to Our Design-Build Experts Today
Our
design-build
model means that we have in-house contractors and designers to ensure that your renovation project is a team effort, from start to finish. Our team will work to make sure your dreams for your home come to life in a way that's both practical and beautiful.
Contact us
today to learn more!