The perfect paint shade has the power to dramatically change the look of your living spaces! When planning a remodeling project, choosing the right paint color will help bring everything together. But with an infinite number of shades, colors, and gloss finishes, it can be intimidating to try and narrow down to just one choice! Our JBDB design experts give some tips on how to get started.
Tip #1: Think about your goals.
As you think about your remodeling project, consider your overall goals. Are you aiming for a tranquil, relaxing space? A fun, vibrant vibe? Are you working with existing furniture, or do you have your eye on a statement piece that you are going to purchase? Stepping back and thinking about your bigger goals will help you get a sense of how your paint colors will help bring everything together.
Tip #2: Get inspired.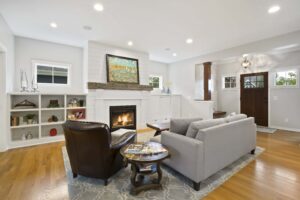 Once you have your goals in mind, pulling together some colors you like is a good next step. Find some images to see how certain color palettes look together; or you might have a favorite throw blanket or piece of artwork that you can draw inspiration from. Gathering these ideas together will help you notice common themes and give you a better idea of what might work on your walls.
Tip #3: Each space is unique.
Though it's an important step to gather inspiration from different places, one of the most common mistakes homeowners make is thinking that the paint color they see on a designer's Instagram or Pinterest page will be the right color for their home. Professional photos are edited or have filters on them that can change the way the paint color looks on their feeds. Each and every wall, even within the same home, can make a paint color look different. 
It's important to keep in mind that just because a specific paint color looks great in one place, that it might not be the perfect solution for your home. No matter the color, you will want to pick a few different shades to test out on your walls before committing to a specific shade. 
Tip #4: Feeling stuck? Let us help!
For many homeowners, trying to determine cool or warm undertones, figuring out how natural light affects their paint choices, or choosing the right color to tie a design together can be a little too overwhelming. If you're looking to make an update to your home, talk to our Twin Cities design team to help you take your ideas and make sure they come to life in your home. The JBDB team will work with you throughout your remodeling projects to make sure each detail ties together perfectly and creates a space that you love. Contact us today to find out more!