In almost any kitchen renovation, incorporating a kitchen island into the floor plan is high on the homeowner's wish list. But kitchen islands, while high in demand now, weren't always a coveted design feature.
A History
The kitchen used to be relegated to the back of the home, away from entertaining areas. But with the help of appliances like stoves and dishwashers, meal preparation started to become more enjoyable and social; instead of solely existing as a practical workstation, the kitchen island started to take on a more inviting role.
Now, with open concept floor plans bringing living and dining areas together, the kitchen has become the heart of the home and a prime place for everything from entertaining to hosting to prep work to homework.
We talked with our JBDB home designer Emily Thull for ideas, inspiration, and insider tips on how to create an island showstopper on your next kitchen remodel.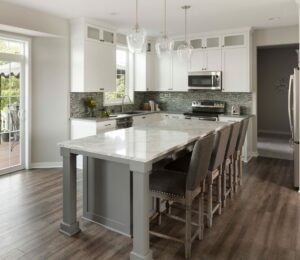 Q: What is the most common island-specific request you get from homeowners?
A: Homeowners are always wanting the largest island possible with their layout. Some kitchens just don't have the size requirements for a really deep or long island, so we have to get creative with the seating to storage ratio with the size constraints we are given.
I try to lay out islands to be conversational and yet still functional when cooking. You want to keep guests out of the work triangle (the space between the stove, sink and refrigerator) but also, as the cook, you want to feel included when entertaining. All of these things are considered when figuring out where exactly the seating will go and where it makes most sense to have trash pullouts, cutting boards, and drawers for utensils.
Q: What are some ways to highlight your kitchen island?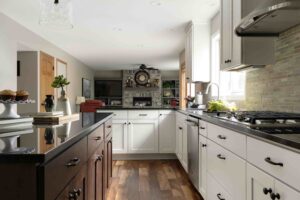 A: The island is the perfect opportunity to make a statement in the kitchen. The cabinetry can be a completely different style than the rest of the cabinets – maybe mix in some wood or add a pop of color.
The countertop can be a place to highlight a beautiful, patterned natural stone slab. I like to pair a stone that has a "loud" pattern in it with something quieter for the rest of the kitchen to really highlight the beauty and uniqueness. You don't want too many "stars of the show" and selecting something that complements, not competes, is a way to really showcase something unique.
Showcasing your kitchen island doesn't just have to stop at the island itself. Choosing decorative light fixtures to hang above it can make a statement. Whether it be one chandelier or multiple pendants, it is the perfect opportunity to mix in some metal, glass, or texture.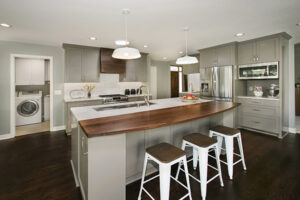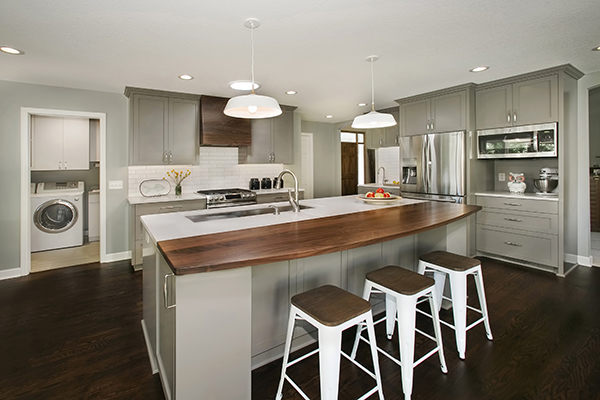 Q: What is one of the most unique islands you have designed for a kitchen renovation?
A: A two-material island. We did the seating side in walnut as that is such a comfortable, warm and inviting material to sit and dine at. The "working" side was in a marble-looking quartz to be a great workhorse for cooking and food prep.
Q: What are some helpful "extras" to include in an island? 
A: With the island being the central hub, planning for electronics is huge. Chances are a laptop or cellphone will need to be charged in so planning easily accessible outlets with USB ports are important. These also come in handy when entertaining and needing to plug in appliances. The island is also a great place to incorporate an undercounter beverage fridge for guests or hiding the microwave out of the sight lines.
Take a look at our JBDB kitchen design

portfolio

for more inspiration. If you're ready to get started on kitchen designs with an island, contact our design team today!