Warmer temperatures are just around the corner – which means finally spending more time outside! Whether it's adding a stunning outdoor kitchen, a custom pergola and patio, or a beautiful fire pit area, now is the perfect time to revamp your outdoor living spaces and make the most out of the great outdoors.
Blending the Indoors with Outdoors
JBDB's designer Emily Thull saw many emerging trends in outdoor living spaces at the KBIS show in Las Vegas. "More and more, the lines between indoors and outdoors are being blurred," she said. As open concept floor plans are still going strong for the interior of a home, the boundaries separating inside and outside are opening up, too.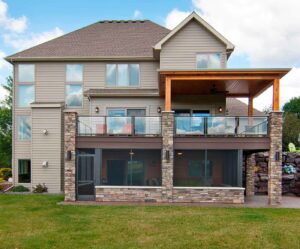 "We're seeing more folding doors and windows that can completely open up the wall between an indoor space and an outdoor space," Emily said.
Extend Your Design Choices Outside
Design elements are also flowing from interiors to the great outdoors, too. Instead of traditional, smaller pavers, there are a lot of plank-style and wood grain pavers in longer, wider sizes to look more like popular wooden floors inside the home. Concrete can also be stamped and imprinted to look like wooden planks.
"Azek recently came out with wider planked decking options, which gives a more unique, modern look," Emily said. The standard width for decking is 6"; Azek's Vintage Collection can be ordered in 7 ¼", giving homeowners the opportunity for a more on-trend, wider plank.
"Indoor-outdoor tile is becoming more commonly available, which means you could seamlessly continue the tile in your basement bar area out to the pool deck," she added.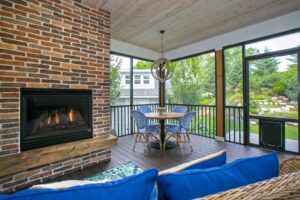 Think About Lighting
"When updating an outdoor living space, you'll want to keep lighting in mind – both for safety and for ambiance," said Emily. Layering lighting is key to creating functional and ambient lighting for your outdoor spaces.
"From adding soffit lighting for the porch, riser and post cap lights on your decking, or stringing up café lights on a pergola, lighting can really take your outdoor spaces to the next level," Emily said.
When doing an outdoor renovation, it's crucial to make sure to work with qualified experts to help you make smart lighting choices and knowledgeable material choices. Even in the harsh MN climate, it's still possible to have the reclaimed beams, outdoor materials, and appliances to make the outdoor living spaces of your dreams. To make sure your outdoor living spaces can stand up to the changing weather, it's important to have the experienced remodeling experts at JBDB help ensure everything is properly suited for the outdoors and to help make your dream outdoor living space come to life!
Contact

the Twin Cities remodeling team at JBDB to get started on your outdoor updates now!