If your home is starting to feel cramped but you're not ready to move, a house addition can be a great solution! From four season porches to living rooms to expanded garages and more, adding on to your home provides plenty of opportunity to create a custom space that will be used by your family for years to come.
"A home addition can transform the home you already love into a space that really works for you and your family," said JBDB's designer Emily Thull. "As time goes on, a home addition can be a great way to have your home grow and change as your family does."
Room or Porch Additions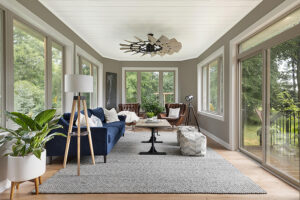 Some of the most common home additions are adding on an extra living space, like a den or three- or four-season porch. This provides some extra square footage that will get plenty of use and can be a great bonus space for entertaining or just spending time together as a family.
Adding a three-season porch is an opportunity to still enjoy the outdoors like you would on a patio or deck, but have a little more protection from the elements.
Another commonly-requested addition is onto an existing garage. As a family expands and grows older, having extra space for a third stall for another vehicle or just for extra storage is a practical way to make your home adjust to your family's changing needs.
Adding a Bump-Out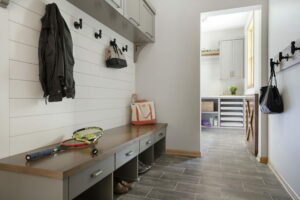 Not all home additions require adding a full extra room to make a big difference in your home. For example, adding a strategic bump-out – expanding your space with a smaller square footage – can really improve your home's layout and even increase the value of your home.
"A smaller bump-out in the kitchen can really make a big difference," said Emily. "It could make the kitchen's layout work better, increase storage, and provide a more open floor plan."
Another beneficial place for a bump-out or small addition is near an entryway. "Creating a mudroom/laundry room combination is a fairly common request," she said. A bump-out can also provide space to create an additional powder room bathroom or make room for a full master suite. "It's really about making your home work for you through every stage of life," Emily said.
Get Creative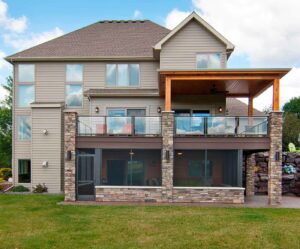 Home additions can also be the perfect opportunity to make a dedicated space for something you or your family is very passionate about, Emily said. "We did an addition for a client that had a dedicated cigar room," she said. "It ran on a completely separate HVAC system to keep cigar smoke out of the rest of the house." If your family is passionate about hunting, sports, or art, a dedicated room addition could be the perfect place to showcase trophies or store equipment and materials all in one location.
If you're looking to add on to your home, be sure to talk to the qualified Twin Cities remodeling professionals at JBDB. They'll make sure that your addition is a seamless, quality integration to your house that you're sure to love. Contact JBDB today to get started!