Looking to gain some more space in your home? If you have an unfinished basement – or even just one that's outdated – a basement remodel is a great way to get more use out of your home. So many factors determine how much it costs to remodel your basement, so John Miller, JBDB's production and sales manager, and Samantha Schmitt, JBDB's designer, highlight some of the key pieces homeowners need to think about when considering a basement remodel.
If Your Basement is Finished But Outdated…
If you have a finished basement that's in need of an update, John said some of the biggest cost factors to consider will be plumbing and HVAC. "If you want to add in a sink to a new bar area, or add a bathroom, for instance, moving plumbing is going to add on cost fairly quickly," he said.
Another common request that impacts the overall cost of a basement remodel is temperature control. "We often hear from homeowners how cold their basement feels," John said. "If a basement is cold, it typically means that the HVAC system wasn't designed correctly. Adding in more supplies and returns in the HVAC system will provide better heat output."
Beyond plumbing and HVAC, another cost consideration is renovating the basement's bathroom. "If it's an older bathroom, it's likely not to code, and might require a full renovation," Samantha said.
If You Have an Unfinished Basement…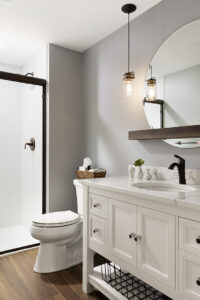 If your basement is unfinished, you have a relatively blank slate to work with. Many times, Samantha notes, the builder might have framed out bedrooms and bathrooms – but it's typically not in a configuration that the homeowner wants once the time comes to actually finish the space. 
John adds, "When a builder roughs in the basement, even though they are putting basic plumbing in, they aren't fully laying things out. So once a homeowner looks to finish their basement, they may choose a double vanity instead of a single, or a larger shower instead of a small, walk-in one."
Some of the bigger cost considerations for an unfinished basement renovation include the bathroom design, adding a fireplace, a bar area, and media room or home theater. Of course, the types of materials and finishes you choose for a basement will impact the overall cost, too!
Make Your Dreams Come to Life
The JBDB team can work with you to discuss your vision for your basement and help you determine a budget for your remodel. Our process takes the stress out of planning and ensures a realistic plan is in place to achieve a beautiful basement for you and your family to enjoy! Contact us to get started!