When it comes to a high-traffic area, especially the kitchen or bathroom, you want a beautiful space that supports your daily routines. Custom cabinets strike the right balance between both!
But when anything is possible, how do you begin honing in on the right cabinets for your home?
---
How to Choose Custom Cabinets
First, Examine Your Priorities.
The first step is to consider how you want these cabinets to function in your day-to-day life. As you're looking around the room, use these questions to start imagining the possibilities:
What items do you use most frequently in the room, and where would you like them to live?
Do you want stored items to be visible, hidden from view, or a mix?
Do you want cabinets that extend to the ceiling, or would you prefer space between them? (There are pros and cons to both!)
Are there previously unusable spaces you'd like to use in a new way?
Do you have any accessibility needs? After all, it won't matter how stylish a cabinet is if it's hard to use.
Let these initial priorities guide you as you hone in on your cabinetry.
Choose Your Style.
How do you imagine the color and look of the cabinets will fit into your room? One of the best parts of customizing your cabinets is finding the perfect fit for your home, from door design to color to height. As you're thinking about your dream cabinets, here are a few ideas based on previous James Barton Design-Build remodels: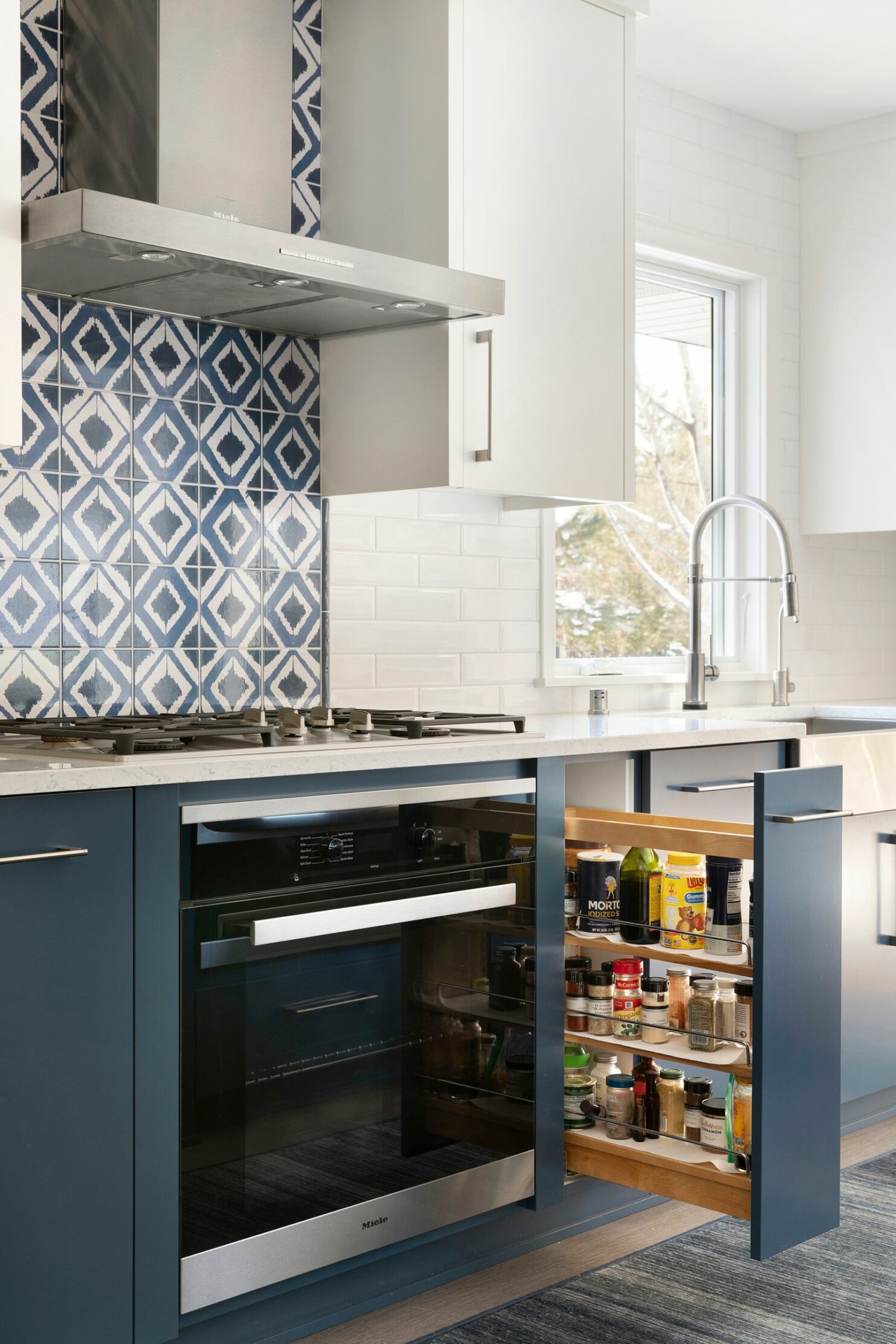 Turn to the Experts.
When you hire a professional remodeling company, you have their expertise at your fingertips. Along the way, designers are by your side, advising and offering fresh perspectives, while you remain the final decision maker.
"We often work with custom cabinets in our remodeling projects," said Sydney Monson, one of JBDB's designers. "That means we have a wealth of knowledge and make recommendations you may not have thought possible!"
See It in Context.
Most homeowners invest in custom cabinetry as part of a larger remodeling project. During the decision process, your team can show you how different cabinet options fit your ideal design and layout.
"We show our clients a 3-D rendering so they can really understand the design before we move into the building process," noted Kayleigh Queoff, another JBDB designer. "This gives us an important opportunity to make sure we're on the same page and make any necessary adjustments!"
Dial in the Details.
Cabinet size and color are important but don't forget about the hardware. Soft-close or self-closing drawers and doors make daily life easier (and quieter!). High-quality cabinet finishes and hardware give your remodeled room a beautifully polished look.
---
Why Custom Cabinets Are Worth the Money
Every homeowner has their own priorities when it comes to their home. Here are a few instances where custom cabinets are absolutely worth the money:
You're living in your forever home. 
If you're going to be in your house for a long time, let's set it up to make life easier.
Your needs or wishes don't fit into average cabinet shapes and sizes. 
"Some of our clients are avid cooks or bakers," noted Queoff. "If that describes you, invest in custom kitchen cabinets, drawers, and pulloutsthat put your most-used ingredients and appliances at your fingertips."
You're ready for a more efficient room layout. 
Custom cabinets eliminate awkward or dead spaces, resulting in elevated functionality that doesn't feel cluttered or cramped.
You're remodeling an older house where limitations don't allow for traditional cabinets.
"Just because you're in an older house doesn't mean you have to adhere to outdated sizes," added Monson. "With custom cabinetry, you get to make your own space."
You want to make a statement. 
Custom cabinetry in a bar area or kitchen sets the tone for an exciting or glamorous evening without leaving the house.
Functionality vs. Beauty: Find the Perfect Balance With Custom Cabinets
Time to make your home your own! When you work alongside the James Barton Design-Build team, you're not making design decisions all by yourself. With experts by your side and endless possibilities, your home suddenly becomes made for you.
Whether you're looking for custom kitchen cabinets, custom bathroom cabinets, or something different altogether, the experts at James Barton Design-Build make it happen.