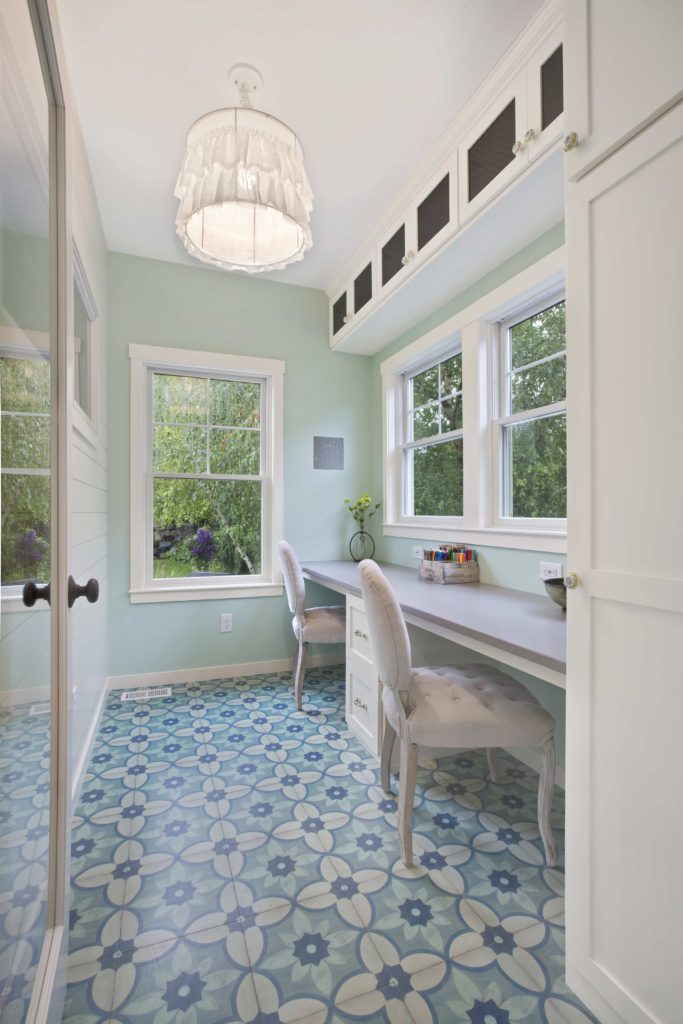 For many of us, working from home is a trend that's here to stay for the foreseeable future. Whether you need a home office remodel for working from home, running your own business, or even a central place to pay bills and store documents, there are many things you'll want to consider. 
Let's Create Your Ideal Work from Home Office
If you haven't found the best place for your 9-5, the JBDB team has home office inspiration to help you out! After all, a happy office is a focused and productive one.
Location, Location, Location! 
At the beginning of working from home, many people used their living rooms, dining room table, or their kitchen island as temporary workspaces. As these workspaces now have become more permanent, it's time to evaluate the current state of your office. If you're still working in a makeshift office space, consider converting an existing, unused space – perhaps a spare bedroom or an unused formal dining room – to establish a more permanent work from home office. 
"We have received so many requests lately for changing a formal living room into a home office," said JBDB's designer Sydney Monson. "With a typical two-story floor plan, the formal living room is often a space that is left unused. We have closed it off to make it more private for an office by adding French doors or a sliding barn door."
If you're cramped on space, considering a home addition might be a good option to increase your square footage. Adding on some extra space, plus reallocating the space you do have, helps you create a home office setup that feels more defined. Another option is to  designate a space for when you choose to finish your basement.
Even if you don't have the square footage to dedicate an office space to a whole room, you can still incorporate a functional office within your home. "It could be as easy as adding in some built-ins to a family room," said Sydney.
Think in Reverse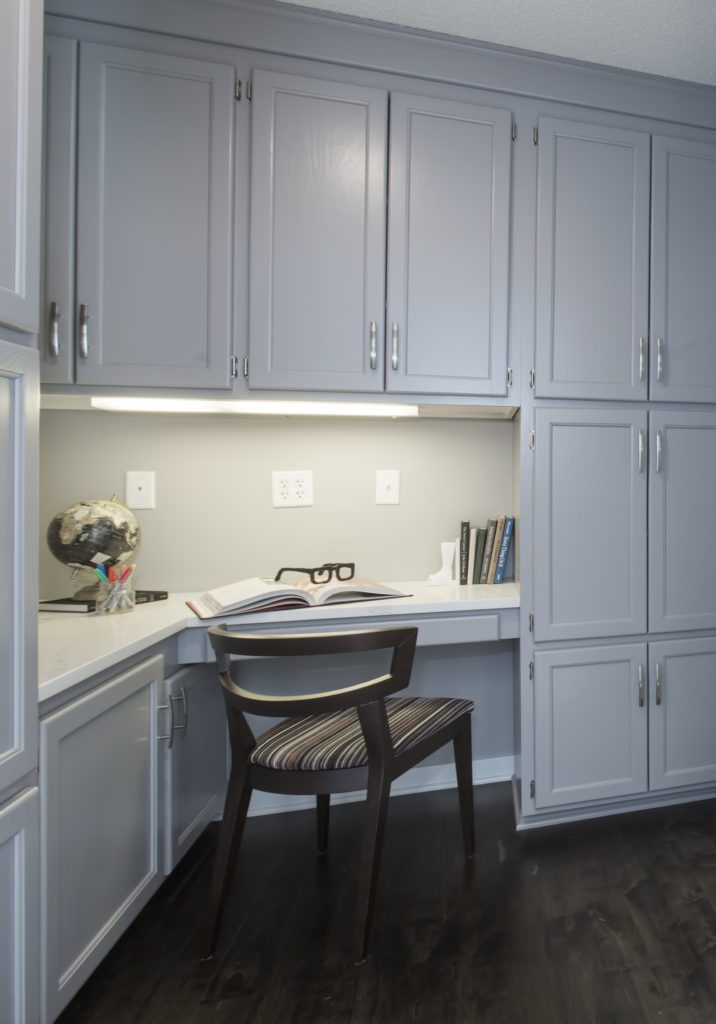 As you imagine your home office remodel, think about the end result and how you'd like to work before making your design decisions:
Are you on phone calls all day long? 

Do you have to take time to help kids with distance learning? 

Do you need multiple computer monitors?





Taking a step back and evaluating your needs will set you up for a successful office space. Whether it's adding pocket doors for privacy, investing in a standing desk for versatility, or

adding storage

space to control clutter, determine how the space needs to work for you before making changes.
"You want to plan out the office space to work for you," advised Kayleigh Queoff, one of JBDB's designers. "For example, instead of being stuck with placing the printer where an outlet is, plan where you want to put it and have an outlet installed there," she said.
"It's nice to hide components within cabinets and plan for outlets, USB, and CAT5 jacks within the cabinet. If you know you want to 'float' your desk in the middle of the room, install a floor outlet for cord management," Sydney added. Planning for these things proactively will help make your office more functional and reduce many of the frustrations and clutter that cords can cause.
Make it Fun!
One of the benefits of working from home is that your space can reflect your personality! You certainly don't want your home office to look like a drab, gray cubicle. Use statement wallpaper or custom trim work to enjoy a beautiful backdrop for conference calls. Include some open shelving in your custom storage solutions for an opportunity to display some of your favorite art, photos, or decorative objects. Find a light fixture that not only provides flattering and functional lighting, but adds a stylistic element to the room.
"An office should really be a reflection of your personality," said Sydney. "You just want to be sure to have a balance. If you do hardwood floors, you don't want to have too many 'hard' surfaces…counterbalance with a soft rug or fabric window treatments. If you've got great art, create a neutral backdrop to really showcase the work."
Unlike a cubicle, you can make your work from home office a beautiful space to spend the work week. 
4 Home Office Inspirations
To get you started, here are a few home office design ideas to spark your imagination. Which one speaks to you the most? 
Mid-Century Modern Office
Create a retro and a conducive work environment. A solid wooden desk, stocked bookcases, and comfortable armchairs add a cozy element for a space you won't mind spending your work week in.
Nature-Lover Office
For some of us, we can never have enough natural light or plants in our workspace. Designing your office by a big picture window to make the most of your at-home views.
"Natural light is great for workday productivity," noted Sydney. "Not only does it provide good light for Zoom calls but it exposes us to more sunlight. This is particularly beneficial during cold winter months." 
Minimalist Office
Sometimes less is more. Filling your workspace with strictly essentials can open up space for creative thinking and problem solving. The right organizational method works to keep your minimalist office neat, clean, and streamlined. Use the beauty of whites and neutrals to enhance the clean-slate feel of this space.

Double Office
Are you working alongside your partner? Depending on how you both work best, it can be best to have your workspaces connected. Partitions allow you to share space while maintaining privacy for those long work calls. 
"Most houses don't have space for two separate offices," said Kayleigh. "A strategic design can make the most out of your available space. That way both of you can enjoy a productive workspace."
Talk to our Team
At JBDB, we can help you evaluate your current floor plan and determine how to make the most of your space. Whether it's reconfiguring floor plans or coming up with an addition that will serve your family best, our design-build team can walk you through your options. We can provide home office ideas that are versatile and provide you with a beautiful, productive place to work!
Get to Work With James Barton Design-Build
It's time to make your office a space you can truly enjoy, and one that works well for you. The JBDB Twin Cities remodeling team can transform your space into the perfect home office remodel, based on your unique dreams, visions, and requirements. Talk to us today!