Do you feel like you're running out of space in your closet? Are you constantly digging wrinkled clothes out of piles on the floor, or finding yourself searching for your favorite t-shirt? A master suite should be a calm, relaxing retreat from the rest of your house—and that extends to your closet, too. 
Check out these storage ideas to create a beautiful master closet that maximizes every inch of your storage space!
Step 1: What's the Problem?
Before you get started, you'll want to identify the biggest frustrations you have with your current closet setup. Is it cluttered? Dark? Too small? Figuring out what frustrates you will help determine what you need in a new master closet.
Step 2: Make a Plan
JBDB's designers will work with you to come up with solutions that are customized to you and your unique needs. Whether it's reconfiguring floor plans to gain square footage in a master closet or mapping out the types of storage you'll need, our team will talk through your options. 
Step 3: Create Smart Storage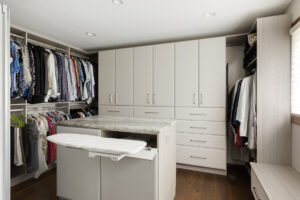 Customized closet storage will be one of the best ways to reign in clothing clutter. If you have a large collection of a certain type of clothing—shoes, purses, or work shirts, for example—you'll want to accommodate specialized storage for those items. 
Store out-of-season clothes high up on shelves when they're not in use. Look into unique closet organization options like pull-down clothes bars or rotating tie racks to make the most of your storage space! Adjustable shelving units can also give you the flexibility to give more room for tall boots or longer dresses as seasons change. 
Step 4: Don't Forget the Finishing Touches
Even though it's a utilitarian space, your master closet can still look beautiful! Whether you want to continue the look and feel of your master bedroom to your closet, or if you want to make a bold statement with a fun paint color or some wallpaper, make sure your closet is a place you enjoy walking into! 
A statement light fixture, accent rug, or unique hardware are all other design details that can elevate your master closet space. 
Get Started On Your Dream Master Suite Today
JBDB's design-build team will walk you through our process to make sure your closet space is functional and beautiful! We listen to your needs and will create a plan that transforms your master closet into a space that you love! Contact us today to get started.