Does the thought of a home renovation sound daunting? Do you think your budget may limit you from tackling the bigger projects on your to-do list? Breaking up a renovation project into phases helps make the overall process feel more manageable and streamlined.
Break it Down
One of the first steps in the renovation planning process is to determine what your main priorities are. You want to break it down by what needs to happen now and what you could live with a little while longer before tackling.
When thinking about a renovation, the key step is to do your research. You want to make sure that your renovation is in the hands of an experienced, trustworthy team. At James Barton Design Build, our process is clearly outlined to help you understand each phase of the renovation. 
Make Plans
Our first step in any home renovation is to first talk with you about your goals. We schedule a consultation with you to get on the same page and discuss your needs. We're there to answer any questions you may have off the bat, as well as give some initial recommendations. 
The JBDB team can also make suggestions that you may not have thought about before, so it's a great opportunity to get creative and come up with something truly wonderful for your home and your family.
At this point in time, the JBDB team will talk big picture and more of a generalization of what you hope to accomplish and how we want to break the project up into phases.
Time to Design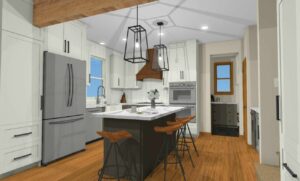 The next step would be to go into design, where we can start to break it down a little more and really focus in on those first priority projects while keeping the secondary projects in mind. In the end, we want both phases to tie in seamlessly. Once both phases are complete, you won't even know that they happened at different points in time. 
By using our 3D rendering software, JBDB's designers can show how each phase will look and also how the complete project will look in the end. This really helps homeowners visualize concepts and help with the decision making process.
Fun Finishings
After the initial rendering comes the fun part – choosing products and selections! During this phase when selecting flooring, tile, paint, and fixtures, we will want to be mindful of phase 2 or 3 of your project. This will help seamlessly tie all phases of the project together.
Signing Off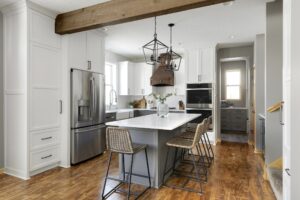 After the design is finalized and the finishes are selected, plans are drawn, a contract is typed, and your project will be sent out for bid. This means that before a hammer is lifted or a wall is torn down, there is a clear plan in place that everyone knows about. Our transparent process gives you peace of mind, so you know what to expect each step of the way.
Renovating Your Home and Enjoying the Results
Throughout the renovation, homeowners are kept up to speed on the project's progress. Even though your project is in production, the JBDB team is always available to answer any questions. After phase 1 of your project is complete, the next phase does not have to start right away. You can call our team when you are ready to jump into design for the next phase of your project!
Contact Our Team Today
We know the
remodeling process
can be overwhelming. By breaking your
home renovation
into simple phases, we help take the stress out of the process for you and give you the reassurance that your home is in good hands.
Talk to our
James Barton Design Build
team
today to discuss your ideas and any questions you might have!