With many home renovations, it's helpful to look through popular design websites and magazines for ideas and inspiration. And even though it's easier than ever to browse thousands of house renovation products online, there is still a huge benefit to seeing and feeling different materials and options in person.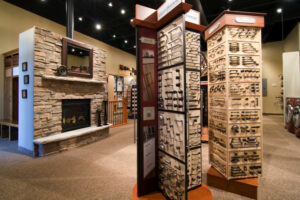 Getting inspiration online is a great place to help narrow down the general style or idea of materials you like. But when it comes time to actually designing your home, visiting a showroom can make a big difference in making final decisions. It's also a great way to discover products or ideas you may not have considered before, from flooring and countertops to fixtures and finishes – it's all in one central location.
Showrooms also help homeowners centralize their decision making – rather than visiting multiple locations and bringing samples from store to store to compare. Working with a professional designer in a showroom to make side-by-side decisions allows you to accomplish more in a shorter period of time.
Becky, a homeowner who recently completed a kitchen remodel with JBDB, said, "We enjoyed using the showroom. It allowed us access to a variety of options without having to go to multiple stores. We came down to the showroom and [JBDB designer Emily] had 3 different options of colors, tile, countertops already laid out for us."
JBDB is an award-winning Twin Cities remodeling company with over 20 years of experience. The design professionals at JBDB guide homeowners through the home design and decision-making process, and the showroom is just one of the many ways to help streamline the design and renovation process for them.
Our Minneapolis remodeling team is happy to help you with the design and planning of your next project.

Contact us

today!