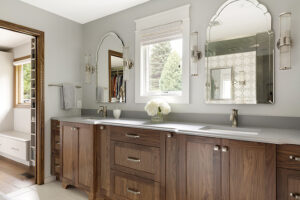 JBDB was recently contacted by a husband and wife who were looking to transform their small and cramped master suite into something updated and beautiful. The master bedroom had a very limited amount of space, and the adjoining master bathroom only allowed for a single vanity and small shower.
To truly make it feel like a master suite, the JBDB team worked with the homeowners to expand the room's footprint. "We were 'stealing' one of the bedrooms to use in their new master suite and we needed to make sure we were using the space wisely," said JBDB designer Emily Thull. "One of the homeowners, being a retired engineer, meticulously thought through every inch of the remodel to make sure it was purposeful and functional for two. Aesthetically, we also wanted it to be beautiful and serene."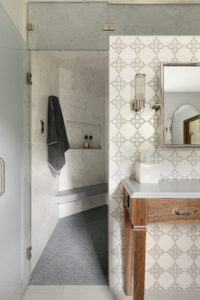 "The three of us worked together on how they would use the space both on a day-to-day basis as well as long term. All of the drawers and pullouts on the vanities were thoughtfully laid out as well as the space plan and design of the closet," said Emily.
To achieve a balance between style and comfort, the bathroom renovation incorporated walnut wood with polished nickel, honed quartz and a palette of neutral grays and creams. Emily said, "The warmth of the walnut and the shine of the metal finishes create the perfect complement to the patterned mosaic tile."
The stunning mother-of-pearl, marble and glass tile created a beautiful focal point in the master bathroom. "We made a last-minute change on the tile that is used on the makeup vanity wall. The homeowner and her daughter were at a tile shop and that mosaic caught their eyes … it really is the focal point of the bathroom and creates just the right feminine touch without being too much for the husband to enjoy," Emily added.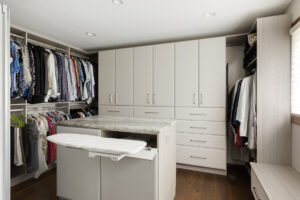 A steam shower with porcelain tiling is located on the other side of the accent wall and features a floating quartz bench and dual shower heads. With universal remodeling in mind, the zero-entrance shower floor makes aging in place seamless.
The master bedroom and master closet also got much-needed boosts in square footage. Both feature wood floors and light, neutral colors. The master closet has custom storage cabinets to organize clothing and also features an island, which is perfect for folding clothes.
Check out our before and after gallery for more inspiration for your next home renovation project! If you're looking for ways to take your existing floor plan and update it to fit your family's needs, contact our JBDB Minneapolis design-build team today.