Let's face it: laundry is a fact of life. Creating a designated laundry room, or relocating it to a different area of the house, can help lighten the laundry load. JBDB's designer Emily Thull discusses some ideas on how to make your laundry space functional, practical – and even enjoyable.
Tip #1: Think About Location
If you're doing a home remodel or home addition, it's a great opportunity to choose the location of your laundry room. "It used to be that the laundry room was always stuck in the basement, and viewed as a chore," Emily said. "But now, people are having more fun with their laundry room areas and using them as an opportunity to add color and more design elements to it – and really integrate it more into their everyday lives."
Locating your laundry room upstairs by all the bedrooms can centralize clothes where the most laundry is generated. Keeping clothes, towels, and bedding corralled in one area can save you multiple trips up and down stairs and make it faster to put clothes away.
There are positives to putting your laundry room on the main level, too. "Having a laundry room off of the mudroom area can really help keep sports gear and dirty clothes from making their way through your house," Emily said.
And depending on how your family typically does laundry, and when, it may make more sense to have your laundry centrally located. "If you're doing your laundry on the weekends, you're probably spending your time in the kitchen and main living areas – so it would make sense to have your laundry room close by."
>> Get inspired with some of our recent

laundry room updates

!
So think about your family's laundry needs and if your home has a space where a laundry room makes the most sense. Talking to JBDB's renovation experts can help you ensure you locate the laundry room where it works best for your family!
Tip #2: Think About Materials
Obviously a laundry room needs to have some utilitarian function – so make sure that flooring and countertop choices can stand up to the task. "You're going to want to keep maintenance to a minimum," said Emily. "Porcelain tile floors are going to be a great, durable option in a laundry room, and luxury vinyl plank flooring can withstand a lot of wear and tear, too."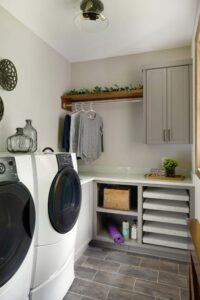 In terms of countertops, though butcher block countertops are popular for laundry rooms, Emily suggests thinking about how often you may set damp clothes on your counters.
"If you think you'll put loads of damp clothes on it, or if you have a lot of lay-flat laundry items, butcher block might not hold up well over time," she said. If that's the case, alternatives like a wood-look laminate countertop, or a stone countertop, like quartz, may be better options.
Tip #3: Think About Storage
Especially if your laundry room is highly visible to other areas of the house, creating ample storage space is key. "As you think through your laundry room design, try to envision how you will use it – do you have a lot of clothes that need to hang dry, or lay flat to dry? If so, you might want to incorporate pull-out drying racks, drying drawers, or hanging rods," Emily said.
Other smart storage options could include flip-out hampers by the washing machine, a pull-out ironing board to save on space, or simple open shelves to keep laundry baskets or other items tucked away.
>> Check out more storage ideas for your laundry room!
"The most important thing is to keep the needs of your family in mind – and have a little fun!" said Emily. "A laundry room can be a great place to add a little more color or pattern than you might typically add in other rooms of the house."
To get started on your
laundry room renovation
or to find out more about the
JBDB
design build process, contact our team today!