Living at home during a remodeling project may seem tricky. But with foresight, planning, and the right design-build company, it can go smoothly. It's all about planning and staying on the same page throughout the process. 
Is it Safe to Stay in a Home During Renovation? 
Yes, it is safe to stay home during a renovation, especially if you can confirm the following:
You understand how your home will be affected during this time. 

You've designated spots to sleep, eat, wash up, and use the bathroom. 

You've put in safeguards to keep kids and pets out of construction areas. 
At James Barton Design-Build, roughly 95% of clients live at home during a remodel. It's more convenient for many people to stay home instead of temporarily living with family members or a nearby hotel.
How to Renovate a House While Living in It
You'll have an easier time living at home during a remodeling project if you follow these tips:

1. Plan and communicate. The top priority here is a shared plan between parties. You should know when the renovation will begin, what hours the team will work, and when it's expected to be completed. Your team should create a detailed timeline with the flexibility to adjust as needed.

2. Understand the process. Each company does things differently. Knowing their approach helps align expectations so you aren't surprised by how the team works. Don't be afraid to ask questions or address concerns during your design meetings.

"You can be confident in our timelines at JBDB," said John, the company's VP of Sales and Production. "By making design decisions upfront, we get materials and finishes lined up and on order before providing homeowners a start date. Everything is planned out and selected ahead of time for a seamless construction process on site. You won't have to worry about a four-week project turning into a six-month job."

3. Express your needs. Your family may have specific requirements. Don't be shy about communicating these to your design-build team so they can incorporate them into their plan.

4. Align on cleanliness expectations. Before the remodel begins, ask your team how much mess to expect at the end of the day. A professional company should minimize dust and disruption to your home.

"Cleanliness is a big priority for us," said John. "We use dust protection to contain dust so it's not traveling through the rest of the house, including plastic sheets as doors and walls. We also use an air scrubber – an air purifier with three filters to draw dust out of the air before it circulates through the rest of the home."
5. Make a plan for the essentials. Think about the items you cannot live without and make a plan for them. If you're an avid coffee drinker, pick an accessible spot for your coffee pot to live.

6. Explain to your kids what's happening. Routine disruptions can be challenging for kids. Before the renovation starts, explain to your kids what to expect and why they must follow your safety instructions. If you created an alternative living space, help your kids navigate ahead of time, answering any questions.

7. Use this time to purge. Before the project begins, you'll need to clear out anything in the way.  While you're moving things around, get rid of items that are broken or no longer necessary. If you're already overwhelmed, put them in a designated spot to deal with once the remodel is done.

8. Protect your valuables. Remodeling can upend your home, often leaving valuables caught in the middle. Before any work begins, put prized possessions in a safe place: a locked safety deposit box, a trusted friend or family member's home, or a storage unit.

9. Designate separate entrances. Allocating a specific entry point for the remodeling team reduces traffic jams, hassle, and safety concerns, especially if you're trying to protect kids from getting in the way or wandering outside. Plus, one entry point will keep mess to a minimum. 
10. Create an alternate, functional space. Renovating a space means losing access to it for the foreseeable future, especially if it's a kitchen or bathroom remodel. Pick another room in your home and designate it as a temporary space. This might mean setting up appliances or commandeering a lesser-utilized bathroom.

11. Schedule a getaway. Sometimes, getting out of the house is just what everyone needs. A few days away from home can help keep your family sane. Attempt for the noisiest part of the process to coincide with a well-timed camp, business trip, or vacation.

12. Childproof (and petproof) as much as possible. Use gates or safeguards to keep kids and pets out of the construction zone.

13. Simplify your schedule. No matter how much you plan, a remodel changes how you use your home. While the transformation is happening around you, keep your calendar simple. Skip hosting big family dinners or parties for the time being. 
14. Keep your eye on the result. Remodeling may disrupt daily life for a bit, but it's worth it to live in the house you want. Pin up a picture of your 3D rendering to remember why you're doing all of this in the first place!

15. Partner with a trusted company. Renovations are better when you work with a company you know and trust. Look to their testimonials and local reputation to see how previous projects went!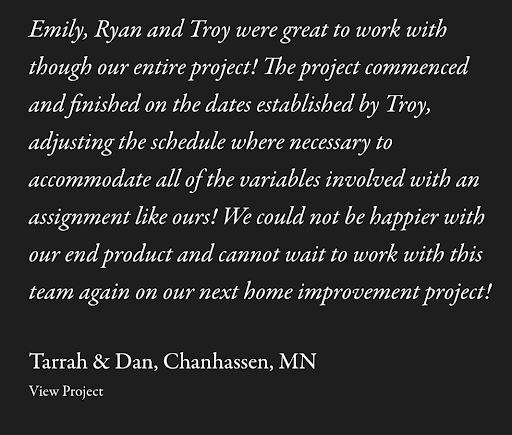 How Long Does it Take to Renovate a House? 
Renovation timelines vary depending on the space's size, the project's scope and complexity, and other determining factors. Generally speaking, a kitchen remodel takes around 7-8 weeks; a master bath remodel about 6-7 weeks. 
If you want to remove walls, that adds extra time since the team may have to reroute plumbing, electrical, or HVAC or move windows. The important thing is to hire a design and build company that communicates a proposed timeline and informs you any time that the timeline needs to change.

Hire a Twin Cities Design-Build Team You Trust

Living at home during a remodeling project is easy when you work with the right time. After all, the last thing you want is to put your home in the hands of an untrustworthy team. Before you jump into your next renovation, understand who you're working with and what they offer. JBDB prioritizes: 
Thoughtful timelines

Honest communication

Safe working conditions 

Minimal disruption to daily life
If you've been dreaming of changing your home to suit your needs and lifestyle, now is the time to do it. With an array of remodeling services and a reputation for excellence, you're in good hands with JBDB. When you're ready to reinvent your living space, contact the James Barton Design-Build team for an initial consultation. 
"*" indicates required fields