Many people are eyeing some home renovations as they head into the start of a new year. If you're looking for some inspiration for ways to refresh your home's design, our Twin Cities designers, Kayleigh Queoff and Sydney Monson, discuss some of 2021's upcoming trends and whether they love them — or leave them.
Trend #1:
Wallpaper
Kayleigh and Sydney: Love it
Wallpaper has come back into popularity, and JBDB's designers are glad to see its resurgence. Instead of feeling like a big, permanent commitment, this time around, it's easier to take a more lighthearted approach. "It's a great alternative to a painted accent wall," said Sydney, "and it can be changed out to keep up with design trends – without having to update the entire room."
"Installed correctly, it can really transform a space," added Kayleigh. "Using wallpaper is an easy way to integrate some really fun, fresh design elements into a renovation."
Trend #2:
Traditional design details

Kayleigh and Sydney: Love it – in moderation
Clean, modern design elements have dominated the past several years, but there is starting to be a reappearance of traditional design details. Less ornate moldings and trim paired with vintage-inspired landscape or oil paintings is a great example of how to bring in those design details.
Kayleigh and Sydney think this is a great trend – in moderation. "If done well, incorporating traditional design elements can add character to your home," Sydney said. 
"There are a variety of ways to bring in traditional design details to your home," said Kayleigh. The key is getting the balance right. "Mixing in one or two vintage pieces with your furniture is an easy way to bring an eclectic look and feel to your home."
Trend #3:
Light wood cabinets and flooring

Kayleigh and Sydney: Love it
Though many people might cringe when they think of the lighter, yellow-toned oak of decades past, the newer, modern take on lighter wood is a trend that the designers both love.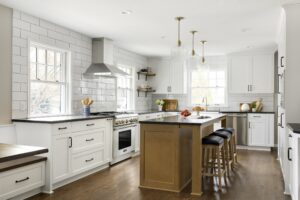 Kayleigh said, "Lighter wood stains have come a long way, and we are seeing more gray undertones instead of yellow. These neutral undertones give a space a more timeless look and feel."
Lighter tones also help lighten up and visually expand a space, as well. "Light wood is versatile – it works well together with other wood tones, and makes a great pairing with quartz countertops to create a fresh, updated look," said Sydney.
Trend #4:
Saturated color palettes

Kayleigh and Sydney: Leave it

There's nothing wrong with embracing some color in your home renovation, but JBDB's designers think that the  2021 design trend of drenching rooms in saturated colors may not be the best route for many homeowners.
"People are gravitating towards a clean and neutral color palette," Sydney said. "Even when it comes to accent walls, colors generally tend to be more muted and not so bold."
Kayleigh said, "Saturated and bold colors tend to be very trend-oriented, while a muted pop of color is more timeless." Instead of committing to a bold color scheme on your walls, saturated colors may have a better place in smaller accents, like pillows and throws, where they can be changed out more easily. 
Trends should serve as a way to inspire you as you create a home you love. Our design-build team walks you through our process to make sure that your dreams for your home become a reality!