If a bathroom remodel is on your list of things to do this year, now is the perfect time to start! After weighing in on kitchen design trends for 2020, JBDB's designers Emily Thull and Samantha Schmitt share their expert opinions on what's trending in bathroom design this year.
Trend #1: Matte Black Finishes
Emily: Love it  •  Sam: Love it
Both designers love the versatility of this finish for a bathroom remodel. "It's a very transitional finish, so it can be used in modern as well as traditional designs," Emily said. "It's also a nice alternative to oil-rubbed bronze – it's another dark-finish option that has a fresh feel to it, and matte black works really well when paired with other finishes."
Whether it's used on shower fixtures, sink faucets, or vanity hardware, matte black can provide a sophisticated contrast to your bathroom's overall design.
Trend #2: Open Concept Showers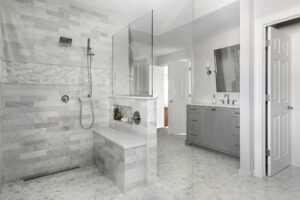 Emily: Love it  •  Sam: Love it
Open concept layouts aren't just confined to living room and kitchen spaces! Instead of blocking off a shower from the rest of the bathroom, open concept showers are becoming more and more common. "Having an open concept shower will make your bathroom feel more spacious, since it's not segmented off from the rest of the room," said Sam.
Emily added, "From a practical standpoint, an open concept shower means no glass to clean! And if you're planning to do an open concept shower, JBDB will just run the waterproofing layer further out into your bathroom so any excess moisture won't cause any problems."
Trend #3: Standalone Bathtubs
Emily: Love it  •  Sam: Love it
Bathtubs have been making a comeback and JBDB's designers love the added design element that a standalone tub can bring to a bathroom. 
"It's an easy way to make a design statement; it's sculptural, functional, pretty, and not as big or bulky as Jacuzzi tubs," said Emily. 
"Standalone tubs are made in so many styles now, so anyone can have one to fit the look they're trying to achieve," Sam said.
Whether it's a vintage claw-foot tub or a beautiful spa-like tub, there's plenty of styles out there to create an amazing focal point in your bathroom.
Trend #4: Bold Powder Room Designs
Emily: Love it  •  Sam: Love it
For larger master bathrooms, homeowners typically choose soothing, spa-like finishes. But a smaller powder bathroom is a great place to take a few more risks! "You're typically not using a powder bathroom every day," Emily said. "So it's a great place to incorporate some unexpected elements for a 'wow' factor."
To add some fun design elements to a powder bathroom, consider using wallpaper on the ceiling, showcasing a piece of oversized art, incorporating tile in a unique way, or including some standout light fixtures!
Trend #5: Patterned Tile
Emily and Sam: Love it, with a twist
Patterned tile in a bathroom is definitely popular right now, but both designers are currently loving a fresher take on this trend. Instead of using a tile with a pattern printed on it, Sam and Emily love the trend of taking a tile and creating a pattern with the way the tiles themselves are laid out.
Sam said, "Getting tiles in a unique shape – trapezoids or hexagons, for instance – and laying them in a unique pattern will create a lot of interest, even when the tile is a neutral color."
Ready to refresh your bathroom design?
Check out
JBDB's
bathroom remodels
for more inspiration! Then talk to the
design-build
team at
JBDB
to
design a bathroom
that fits your style.