With the right design, a home's lower lever can serve so many functions. It can be a place of escape, a place to entertain, and a place to energize yourself with workouts. That may sound like a lot, but with the right remodeling team at your side, your lower level can accomplish it all with grace, sophistication, and style. 
To show you, take a look at this lower-level transformation from the James Barton Design-Build team. 
Where It Started 
When they approached James Barton Design-Build, these Eagan homeowners were looking for an updated lower level with the following: 
A dry bar area for entertaining

Family room area for entertaining these big LSU fans

Lockable wine storage

Designated workout area

Updated bathroom

Refreshed office space 
"Our primary goal was to create a space that represented the homeowners' style and passions while serving a range of everyday needs," said Kayleigh Queoff, one of JBDB's designers. "At the end of the day, we accomplished that." 
An Enviable Wall-Mounted Wine Rack 
Walking down the stairs, complete with Anchor Iron Company Railing, visitors first see an impressive wine collection display.

As avid wine collectors, these homeowners didn't just want to store their collection but showcase it. This wall-mounted wine rack is kept safe behind glass doors with large C.R. Laurence ladder pulls on doors that lock into the floor. The homeowners chose a Zephyr wine and beverage fridge for refrigerated beverages.
"After listening to the homeowners talk about their passion for wine, we wanted a special display case for them," said Queoff. "Designing a room around passions is a great way to make it your own."
Entertainment Central 
A place to watch the big game was a must-have for these homeowners. And what better way to take in a game than a mounted TV with speakers? JBDB built a custom TV cabinet to utilize the existing space, recessed right into the wall under the stairs. They also added a custom island table and console table; that way, anyone who comes to visit has room to relax and enjoy the game.
"This recessed cabinet hides all of the wires and boxes that usually surround TVs," said Queoff. "By strategically hiding them, the room looks cleaner without sacrificing vital TV accessories or using obvious wire covers."
Refreshing the Lower Level Office 
Even though this lower level had plenty of exciting activities, it also had to serve as a quiet and secluded workspace during the workweek.

To separate this space from the rest of the lower level, the JBDB team installed office French doors with frosted glass and large C.R. Laurence ladder pull, integrating seamlessly into the lower level's new elegant style. 
Tying these separate spaces together is Evoke LVP Flooring, which runs through the entire level. 
The Pièce de Résistance: The Dry Bar 
To set the tone for the room, the JBDB team turned to 3D Tile X Design Settecento bar backsplash tile behind this expansive dry bar. This eye-catching design gives the room a solid focal point. Its darker gray contrasts with the light gray shade on the rest of the walls.

Strategically placed, open, floating shelving allowed the homeowners to display favorite items without worrying about clutter. And to maximize storage, custom cabinets offer lockable space for safekeeping with Top Knobs cabinet hardware that elevates the look and feel of this dry bar.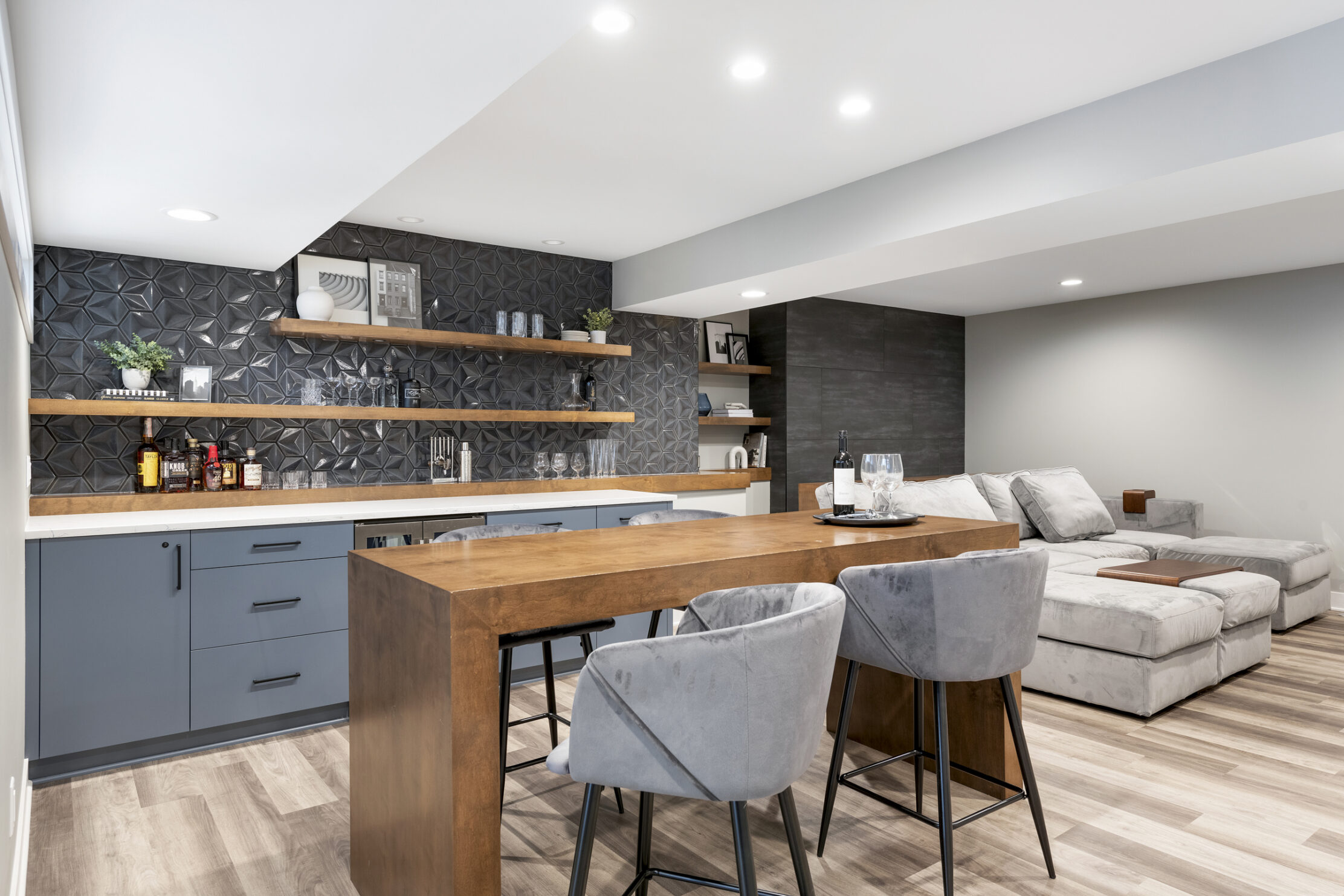 Wet Bar vs. Dry Bar: What's the Difference? 
Understanding a wet bar vs. a dry bar is helpful when envisioning your lower-level remodel. Here's a simple way to think about it: 
Dry Bar: A dry bar doesn't have a sink but still offers the functionality of a bar, with liquor cabinets and storage. 
Wet Bar: A wet bar has a sink with running water. This feature comes in handy when making cocktails or washing out used glasses.
Which bar is right for you ultimately depends on which option best serves your needs and what's possible with your plumbing. If you're stuck between both options, the JBDB team can talk you through potential wet and dry bar ideas to help you decide!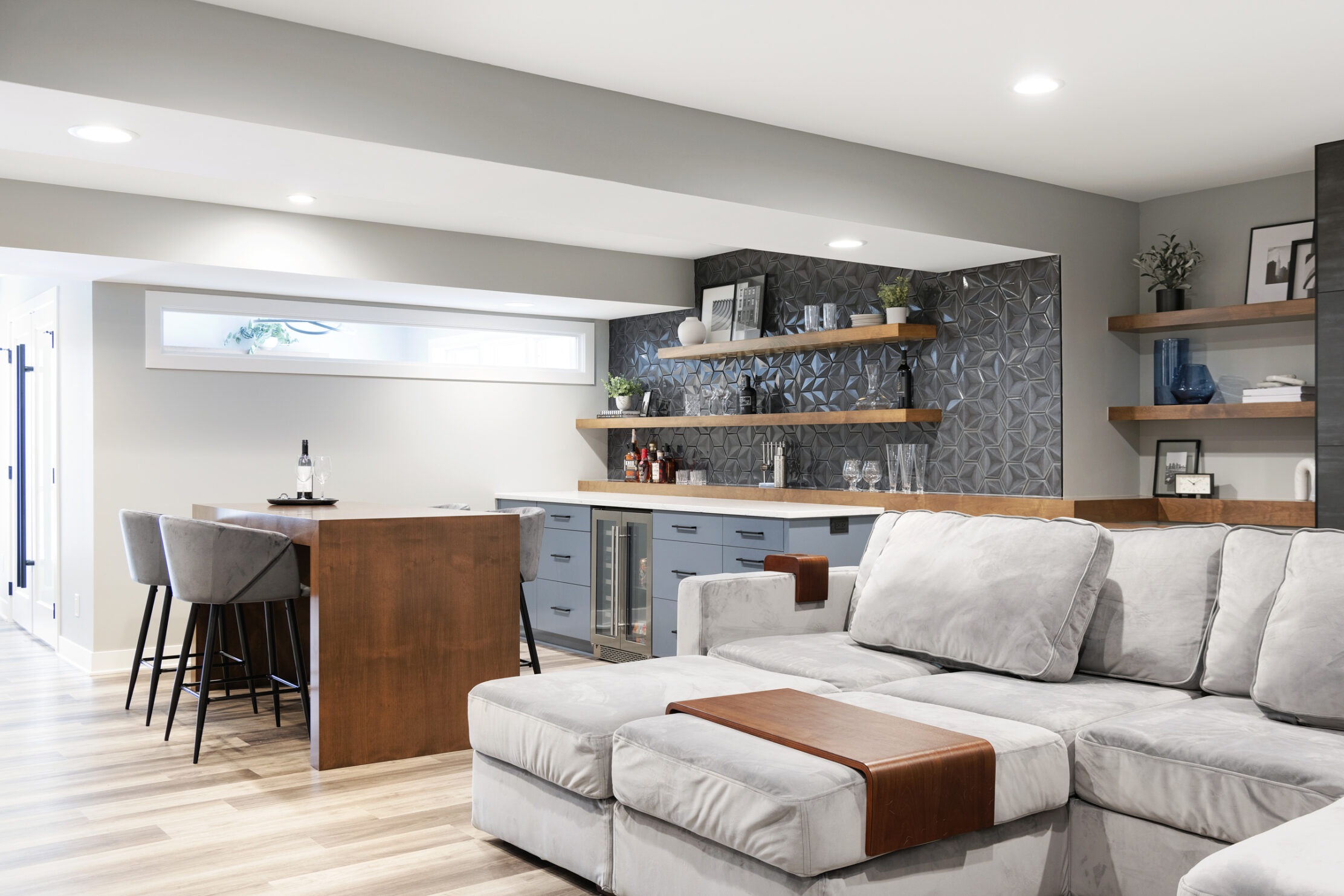 Home Remodeling in Eagan, MN 
If you're a Twin Cities homeowner ready to change your living space, you're in good hands with James Barton Design-Build. Known for gorgeous designs and personalized remodeling plans, this award-winning remodeling design and build company has transformed homes in and around the Twin Cities since 1997. 
"*" indicates required fields