When envisioning a beautiful new renovation, many people dream of expensive, natural materials – from marble countertops to hardwood flooring. But with advances in technology, luxury vinyl flooring is putting some stiff competition against the originals. If you're considering new flooring – whether it's part of a kitchen renovation, bathroom update, or revamping your living room or mudroom – check out the benefits that luxury vinyl flooring can bring to your home.
What is Luxury Vinyl Plank Flooring?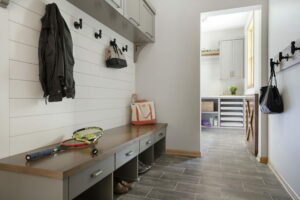 Luxury vinyl plank (LVP) flooring is an affordable flooring option that comes in a wide range of colors and styles. Unlike real hardwoods or engineered hardwood flooring, LVP is waterproof, making it a sensible option for kitchens, bathrooms, or mudrooms. 
In addition to being waterproof, luxury vinyl plank flooring is durable. It can resist scratches and regular wear and tear from a busy household, and the only maintenance it needs is sweeping and mopping to keep it clean. 
Does LVP Feel Like Real Wood?
Choosing LVP doesn't mean you have to sacrifice all the comfort, warmth, and texture that hardwood flooring offers. Wood-look vinyl can come in a range of textures to mimic the look and feel of real wood flooring. 
LVP Design Trends for 2021
Textures: Just like hand-scraped and distressed textures are popular in hardwood flooring, there has been a rise in popularity with LVP, too. There's a variety of wire brushed and distressed planks that provide different wood-like textures. Beveled edges also help make LVP look even more like the real thing! 
Colors: Lighter "blonde" and bleached wood tones will still be popular in 2021, and you can find those options with luxury vinyl flooring. There's also an emerging trend to go darker and moodier, and if that's more your style, you can choose from darker walnut tones to achieve that look.
Materials: Homeowners may want a twist on traditional flooring, and want the look of concrete or marble flooring without the cost investment. Luxury vinyl tile (LVT) has slate, stone, and marble options that mimic the look of those materials.
Patterns: Since LVP comes in such a wide range of looks, it's no surprise that there are plenty of patterns to choose from, too! One of the benefits of using a more affordable flooring option is that homeowners may have more freedom to choose a bolder flooring for a powder room bath or laundry room. Instead of worrying about the expense or durability of certain types of tiling, using LVP flooring to incorporate some color and pattern into a space can be a great option.
Talk to JBDB's team to get started.
It can be hard to know which materials, colors, or patterns will work the best for your
home renovation
plans! Our designers at
JBDB
can walk you through your options and help you choose materials that make the most sense for your home and your budget. Just like other flooring options, you want to choose a flooring that works best for your lifestyle and your overall design goals.
Contact
JBDB's
design team today!