Have you ever wanted to see our remodeling results up close? One of our recent transformations is featured in this spring's Parade of Homes Remodelers Showcase!
Friday, April 8th through Sunday, April 10th, from 12-6 pm, you can see how we helped two Plymouth homeowners shape the home of their dreams.
How It Started 
After spending 30 years in their Plymouth home and celebrating a recent retirement, our clients were ready for a massive, two-phase remodel. After completing the first phase, it was time to dive into Phase Two, focusing on a transformation to a cramped, outdated kitchen. 
"Our goal was to bring the design of the house forward for a more contemporary look while making the kitchen brighter and user-friendly," noted the homeowner. 
So, the JBDB team got to work.
From Cramped to Contemporary 
Once JBDB's designers worked with the homeowners on the new kitchen design, a comprehensive calendar was created and communicated to everyone involved in the ten-week process. Keeping everyone on the same page about timelines and costs helps eliminate potential surprises. 
"Using Chief Architect software, we were able to see a three-dimensional sketch of the kitchen design and tweak it until we were completely satisfied. Our designer's patience was amazing!" said the Plymouth homeowner. "Having their own design showroom made selections easy and efficient."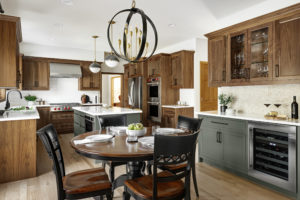 A Bright Room Emerges
One of the most significant changes for the homeowners was their kitchen's look, feel, and functionality. A large picture window and recessed LED fixtures brightened the room. 
"We took a dark and dated kitchen and installed white countertops and backsplash to give it a brighter look. Then we added warmth with the walnut-stained cabinets and rich olive-green enameled island and base cabinets at the bar area," noted Monson. 
The kitchen has since become a favorite spot in the house. 
The Relationship Continues 
Relationship building helps deliver a successful and stress-free process and result. Plus, it means homeowners have a trusted point of contact to call when new renovation needs come to mind. 
"We found JBDB to be fair, honest, practical, reliable, and responsive."
– Homeowner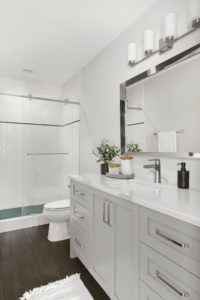 See the Home Transformation for Yourself 
Visit this Plymouth remodel during the Parade of Homes Remodelers Showcase.
When: April 8-10 from 12-6 pm
Remodelers Showcase Number: R20
Address: 4470 Comstock Lane N. Plymouth, MN 55446