We're inching closer to patio season! If you're ready for some sunshine and enjoy spending time in the backyard, adding a pergola might be the perfect complement to your outdoor space. Create an inviting space for friends and family to be together outside and get inspired by these pergola ideas!
What is a Pergola?

A pergola is an outdoor structure that provides shade for garden walkways or a seating area. Adding this structure helps create a defined area in your yard, perfect for group gatherings or some alone time. Because the customizable options are endless, you can enjoy an outdoor living space that really fits your vision. 
Determine What You Want in a Pergola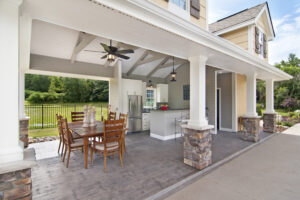 Yes, you want a pergola. But do you want it attached to your home? What are your thoughts on lighting? Do you want full sun protection, or partial coverage? Are you envisioning a modern feel or more natural?
Discussing your goals for your outdoor space with the James Barton Design-Build team can help you determine the size, style, and budget for your outdoor project.
Get inspired by these outdoor projects!
Consider Your Materials

Similar to decking, pergolas can be constructed out of a variety of materials. Wooden pergolas give a rustic, natural feel to an outdoor space. You can stain, paint, or let wooden pergolas naturally weather. 
Choosing vinyl for your pergola provides a maintenance-free, modern look. Vinyl is very durable and comes in a variety of sizes and colors, though choices may be a bit more limited than wood.
Have Fun with the Extras

If you are planning on hosting lots of outdoor events, consider incorporating some different lighting sources so your guests can stay outside well into the evening. An outdoor fireplace or fire pit also adds light while creating a cozy atmosphere on cool evenings.
If you have a green thumb, you might want to integrate your pergola into a garden or some landscaping, or have hanging plants or vines on your pergola. And if you have a pool, a pergola might also be the perfect place to dry off after a swim! 
Talk Through Your Options with the Experts

Take your backyard project to the next level by adding a pergola to your yard this summer! The JBDB team can help you create a comprehensive backyard space that you can enjoy for years to come.
Talk to us today
to get the process started to create an
outdoor project
you love!