Basement Remodel – A Stunning Cellar Deserving of the Finest Wines
The Stroh's are avid wine aficionados and have collected an impressive amount of wine thru-out their years together. Unfortunately, their Prior Lake home had no convenient place to safeguard and display their selection of hundreds of bottles. They came to James Barton Design-Build with this problem and our home design team was eager to take on this unique renovation.
[before_after before_image_id="1079″ after_image_id="1078″ angle="0″ return_on_idle="true" arrows="true" arrow_color="#ffffff" before_caption_color="#ffffff" after_caption_color="#ffffff"]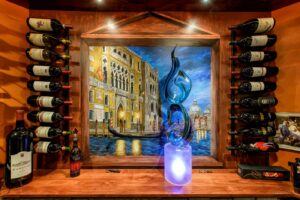 Due to the difficulty of the project all the previous contractor did was dig a hole where the wine cellar was to be placed. JBDB began this Lower Level remodel project by opening up the staircase wall to allow the wine cellar to be visible from the basement stairway. A tempered glass door and windows were installed between stacked stone columns to seal the climate controlled room without sacrificing the views of hundreds of wine bottles. Inside the cellar, a combination of wood and metal "Vintage View" wine-racking was used to organize the couple's collection of wine and glassware. The room's cork flooring, hand-painted mural, and wine barrel table helped make this cellar a unique place to relax and enjoy the finest blends of wine. The exterior of the wine cellar blends seamlessly with the rest of the home.
This Prior Lake home remodel wasn't finished just yet. While the couple's stunning new wine cellar provided a wonderful place to relax indoors, the Stroh's wished for an updated deck to enjoy warm summer days on the lake.  A dated deck with blocked views was in need of a complete renovation.  A perfect space was created with maintenance free Azek decking along with tempered glass creating an unobstructed view of the yard and lake.
[before_after before_image_id="1825″ after_image_id="1826″ angle="0″ return_on_idle="true" arrows="true" arrow_color="#ffffff" before_caption_color="#ffffff" after_caption_color="#ffffff"]
Our team was honored to accept a COTY Award for our work on this Prior Lake home renovation. The Stroh's wine cellar was a fun and unique project for our team to work on but most importantly, it provided an exciting place for the couple to enjoy their passion for wine together.