When the Drury family first bought their Eagan home, they knew right off the bat that the kitchen would need to be reworked. In its existing state, the kitchen was dark, cramped, and closed off from the rest of the house, making it feel dysfunctional and disjointed. To make the kitchen feel more modern and functional, the Drurys reached out to JBDB.
By reworking the floor plan, the JBDB team created an expansive kitchen and living area that was custom-made for the Drury family. A large island provides plenty of space for the family to prep meals and spend time together. The Drurys wanted the functionality of stone on their island for cooking, but also wanted the warmth of wood  for dining — so the JBDB design-build team created a one-of-a-kind dual island made out of both quartz and walnut butcher block to provide the best of both worlds. 
To tie in to the island, the kitchen's vent hood was also wrapped in walnut. Since the Drurys like to cook, JBDB included two sinks in the kitchen design, including a custom-fabricated sink that featured a built-in drying rack. Custom cabinetry provides ample storage and brings warmth into the space as well.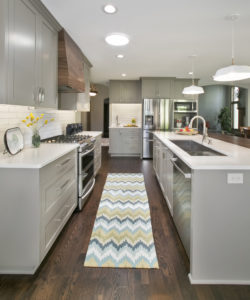 Since large trees shade the house, the JBDB team couldn't rely on windows alone to bring in much-needed natural light to the kitchen remodel. By adding in energy-efficient solar tubes into the ceiling, JBDB was able to incorporate natural light from above instead.
Overall, the JBDB team created a space that not only functions well for the day-to-day needs of the Drury family, but also a space that looks beautiful, too.
If you're thinking about updating your house, c
heck out
our portfolio
of some of our favorite
home remodels
for inspiration.
Contact
us to talk about how we can make your home a place you truly love. We look forward to working with you!