There's no better time than a home remodel to integrate cutting-edge technology into your home. Not only do smart home systems make life easier, but they cut energy costs, increase security, and make your day-to-day life more fun.
"35% of renovating homeowners upgraded to at least one appliance with high-tech features." – 2022 Houzz study.
Consider how smart technology can enhance your life during your next home remodel. Then, work with your design-build team to integrate it seamlessly into your transformed space.
Smart Home Automation Systems for an Interior Remodel
Smart thermostats automatically make your home more comfortable. Adjust your temperature wherever you are in your home or even when you're far from it! Whether coming home from another long day at the office or a week-long vacation, set this smart home automation to your routine, taking another thing off your to-do list while saving on energy costs.
"Smart thermostats are a win-win," said Kayleigh Queoff, one of JBDB's designers. "Not only can they reduce your energy bill, but they also ensure your home stays comfortable year-round."
Connecting smart lights to a home automation system allows you to remotely control lights to set the right mood in different areas of your home. Save money on energy bills by setting your lights to your schedule, even when you're on vacation! Shine calming, sleep-promoting light at the end of the day or brighter tones in the morning to wake your family up.
Smart Home Automation Systems for a Kitchen Remodel
Smart refrigerators are easily added while swapping out kitchen appliances. Their internal sensors also sense and can adjust to temperature fluctuations, ensuring your food stays at the right temperature. Specific models have a built-in touch screen that lets your family leave notes, access the internet or check the family calendar.
Smart speakers are perfect for streaming your favorite music or podcast wherever you are in your home but can be particularly perfect for the kitchen. The James Barton Design-Build team can help you integrate smart speakers into your new design so you don't have to mess with unsightly wires.
Smart hubs connect your various smart appliances for ease of use, including synchronizing your lighting and thermostats to adjust every morning and evening. While smart hubs can fit into any house area, many homeowners opt to have them in the kitchen. The JBDB team can design a convenient spot for them without making technology the room's focal point!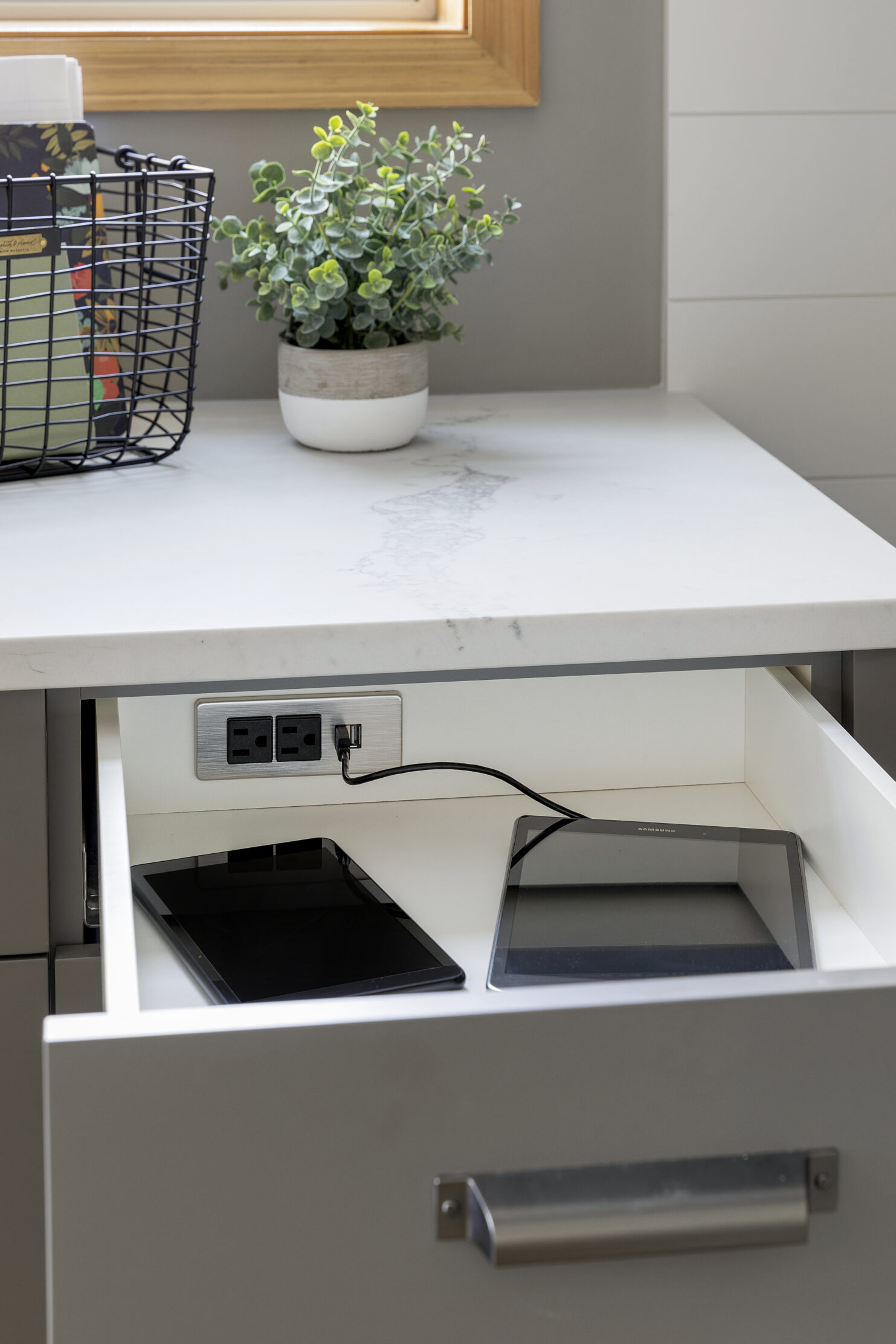 Smart Home Automation Systems for an Exterior Remodel
Smart home locks grant access using a passcode or your smartphone and often have burglar protection, automatic relocking, and wireless alerts to security systems in case of a break-in. Because you can grant remote access, these locks are great for letting in visiting family members or last-minute dog walkers. Find a model that fits into your exterior design.
Smart garage doors let you open or close your garage door from anywhere, giving you peace of mind if you forgot to close it on your way out the door or need to let someone in when you're not home.
Smart Home Automation Systems for a Bathroom Remodel
Smart toilets make your bathroom more hygienic and more luxurious. Touch-free flushing, integrated bidets with adjustable water temperature, and heated seats, perfect for cold mornings. Certain models are even deodorizing and self-cleaning!
What are the Benefits of Smart Home Systems?
Thoughtfully integrating smart appliances elevates your home to a whole new level:
Functionality. Of course, this is the biggest benefit and the one most homeowners look for during a remodel. These little things add up to make daily life easier, especially if you automate your routines.
Value. Homebuyers today are willing to pay more for integrated smart home technology. Adding in these assets now could pay off big time if and when you look to sell your home.
Accessibility. Incorporating hands-free devices is great, especially if you want to age in place down the road. Voice commands make difficult tasks, such as turning off a bedside lamp or locking the front door, easier.
Smart Home Technology: Easy Living That Looks The Way You Want It To
With so many options, it's easy to get overwhelmed when choosing the right setup for your home. Luckily, the JBDB team can help you find the perfect selection for your lifestyle. Building these devices into your home remodel means you get all the convenience you want, wrapped up in a beautiful new design.
Are you ready for an upgrade? Contact the Twin Cities remodeling experts at James Barton Design-Build. You'll find the best solutions to make your home beautiful, functional, and energy-efficient while meeting your family's needs.
Schedule a consultation

with the James Barton Design-Build team today to begin!