Is your bathroom dingy, tired, and in need of an update? Does your shower seem sad and worn out instead of spa-like? If you're considering a bathroom renovation, here are some spectacular shower ideas for creating a stunning, relaxing environment right in your own home.
Think Through Your Wish List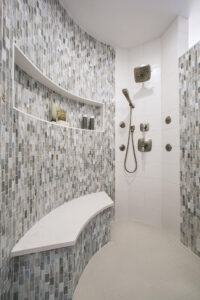 Most people start their morning routine in the shower, so it makes sense to create a shower space that is beautiful, functional, and relaxing. Everyone's needs are different, but JBDB designer Emily Thull advises homeowners to all start the process in the same place: "Think through your 'day-to-day showering' routine and what you need for daily use," she said. "Maybe you need a showerhead with a lot of pressure for rinsing off, or want a bench or lower shelf for shaving."
She also advises to think about the practical, less glamorous aspect of cleaning a shower – "With large showers, I often recommend installing a hand-held showerhead as they are beneficial for rinsing the tile down." And if you're planning on aging in place in your home, designing a zero-point entry shower is also a good idea.
Narrow in on Unique Design Features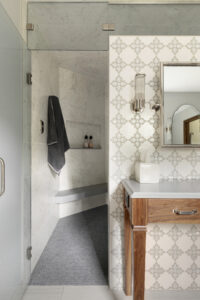 Once you think through your list of needs and wants for your shower design, the next step is to consider the actual design. One of the most effective ways to create a spa-like environment in your bathroom is to keep it simple, Emily said. "Maximize your concealed storage space to keep countertops clear from clutter. Mix textures and finishes with soothing colors." A neutral color scheme can create a sense of calm and luxury at any price point. Select a textured or patterned tile within the same color scheme and use it to highlight the shower area for some visual interest.
Another way to mimic a spa in your home is to incorporate different lighting options throughout the bathroom. "Consider lighting from multiple sources and on dimmer switches — mixing recessed can lights with sconces and hanging fixtures — to create ambiance." Having natural light, using a frameless glass shower enclosure, and adding strategic lighting can all help transform your shower space from dark and dull to bright and relaxing.
Add in Cutting-Edge Features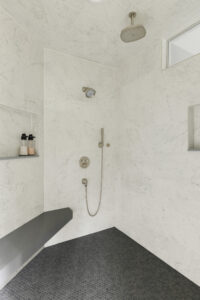 Incorporating technology can streamline your routine and make your shower feel like a high-end spa. "Go 'techy' with speakers, digital shower controls or tubs," Emily said. There's no end to the types of technology you can add to your bathroom – from Kohler's tub with digital controls, Chromatherapy lights and VibrAcoustic sound waves, to Moen's digital shower control that can be adjusted through an app or by voice — homeowners are bound to find tech gadgets that make their morning routine a luxury experience.
Tech gadgets aside, there are a variety of faucets that can bring your shower beyond the basics. "Rain heads deliver a luxurious, relaxing experience," said Emily, "And steam showers have a lot of health benefits – from improving circulation and clearing up your skin to relieving stress."
The sky is the limit when it comes to creating a truly spectacular shower. The Twin Cities remodelers at JBDB can help you create a stunning shower in your bathroom renovation.

Contact

JBDB today to get started!